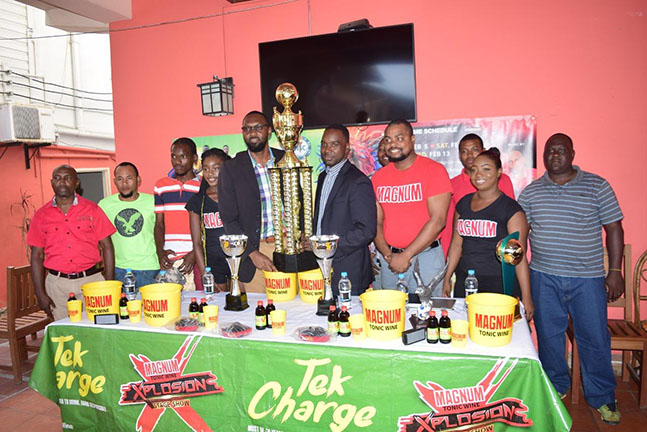 With the opening night confirmed for February 2nd at the National Gymnasium, the 2nd edition of the Magnum Mash Futsal Championship was officially launched yesterday at the Windjammer Hotel, Kitty.
 Speaking at the launch, Esan Griffith of tournament coordinator Sanns Sports stated that he expects discipline to be showcased by the competing teams, as the event is being used as a vehicle to advance social cohesion.
According to Griffith, fans should expect a wonderful and safe tournament, as security is the main priority of the organizers in their attempts to stage a successful championship.
 He further added, that the sponsors such as Ansa McAl and the National Sports Commission [NSC] must be commended for their continued support.
 Meanwhile, Director of Sports Christopher Jones declared that the entity is committed to the fruitful staging of the tournament and will be making a significant contribution to its success by increasing the prizes monies.
 Jones revealed that the prizes monies for first place will increase to $600,000, with the second and third place also increasing to the tune of $350,000 and $200,000 respectively. This will also be complemented by the first place trophy.
 According to Jones, the NSC is dedicated to empowering youths, adding that the organization realizes and acknowledges the importance of such events in the development of youths.
He further added that the entity is committed to the growth of sports, as a vehicle for change.
 The nine-day event features 32 teams battling for over $800,000 in cash and prizes. The other playing dates are the 5th, 9th, 13th, 16th, 19th, 21st and 24th, with the grand finale slated for March 2nd.
 Initially to be contested in a group format, upon the conclusion of the group stage, the top two teams from each of the eight groups (four teams per group), will advance to the knockout round.
 Among the notable teams scheduled to compete are Gold is Money, Sparta Boss, Back Circle, Future Stars, Bent Street, Leopold Street, Albouystown, Tiger Bay, Avocado Ballers, Broad Street, North East La Penitence, Sophia, Showstoppers, Stabroek Ballers, Gaza Squad, California Square, Hustlers, Swag Entertainment, Ol Skool Ballers, Agricola, Mocha, Buxton Diamond, Silver Bullets and Ansa All-Stars.
 Confirmation of the respective groups and the fixtures will be announced shortly.
Around the Web