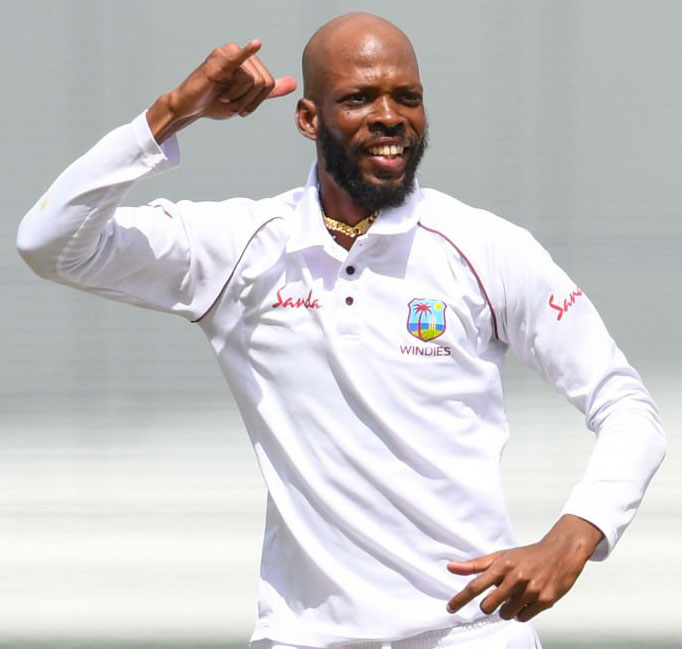 BRIDGETOWN, Barbados, CMC – Following his memorable bowling performance which helped to lead the West Indies to a commanding victory over England, Roston Chase's magnificent effort has been hailed by his captain Jason Holder.
Chase took eight wickets for 60 runs to help dismiss England for 246 on the fourth day of their opening Test at Kensington Oval on Saturday, as the home side breezed to a 381-run victory.
It was the sixth-best bowling performance by a West Indian and second best at Kensington Oval.
"Roston was a champion for us out there today, he put his hand up and counted when it mattered the most. He was excellent. We asked him to do a job and he stood up. Hats off to him and the entire team for a job well done… we planned really well and this was a great result to a truly wonderful and memorable performance," Holder said.
An ecstatic Chase said he knew from beforehand he would be required to bowl a large number of overs in the second innings.
As a result, he said he held several discussions and planned his bowling with the team's spin bowling consultant Mushtaq Ahmed.
"Looking at the wicket, I always thought I would come into play in the second innings. The quicker bowlers set it up for us in the first innings and 'Mushy' told me I'm going to have to bowl 25 overs in the second innings, to get my mind ready for it, so I was always prepared to do some work, to give the pacers a rest. I started to pick up some wickets and it went from there," Chase said.
"I just tried to be consistent and land it my areas, despite what the batsmen were doing, put some revs on the ball and vary my pace a bit. It gives us big confidence for the series because England are a higher-ranked team than ourselves. It's for us to carry on from here and continue to do what we do well, the basics and focus on our processes, we should be all right."
Around the Web