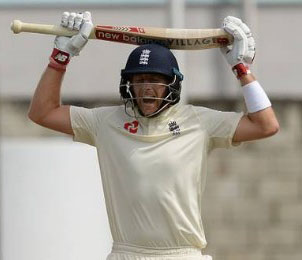 BRIDGETOWN, Barbados, CMC – England head coach Trevor Bayliss says he is baffled by his side's batting capitulation to West Indies in the opening Test here last weekend.
The visitors were heavy favourites to sweep the series against the lowly ranked hosts but suffered a crushing 381-run defeat inside four days on Saturdays after their batting failed twice in the match.
In particular, England were bundled out spectacularly for 77 in their first innings – the lowest-ever Test total at Kensington Oval – to concede a 212-run lead.
"They (West Indies) did bowl well, but every time a team does that we shouldn't be expecting to get knocked over for 77," Bayliss complained.
"In the second innings, the guys looked like they were trying, we made good starts but at this level you have to be able to bat longer than that."
The second innings was more of the same after England were frustrated in the field as West Indies piled up 415 for six declared, to be left with a near impossible target of 628. They were 134 for two at lunch but lost their eight wickets for 112 runs as part-time off-spinner Roston Chase snatched a career-best eight 60.
"Chase bowled a good line and a good length. He didn't give us any easy runs to get off strike. He built that pressure up, broke down our techniques on a couple of occasions and there were some poor shots on some occasions. That adds up to eight wickets," Bayliss pointed out.
"It's not the first time this has happened. Every time we lose a wicket it's the beginning of a collapse. And to be honest, I don't know how to explain it. There's nothing that stands out in your preparation or the lead up to the game that is any different to when we win.
"We have to work out what's the difference between when we put on a partnership after losing a wicket and losing eight or nine quick ones."
The result meant West Indies head into the second Test in Antigua starting Thursday with a shock series lead and with the possibility of a series win over a higher ranked side for the first time in seven years. And Bayliss said there was need for more fighting spirit from the England players going forward, especially when West Indies applied pressure.
"I think it gets down to a bit of guts and determination to get through those tough periods," he said.
"It's not the first time that we've succumbed in a short space of time. The boys are in the dressing room hurting and I'd be worried if they weren't.
"Do they lack mental discipline? Personally I think so. You don't have to have perfect technique to be able to score runs or take wickets: it's how you go about using it.
"On this occasion we've certainly been lacking in that department. I'm not sure I can repeat what has been said [in the dressing room]."
Around the Web