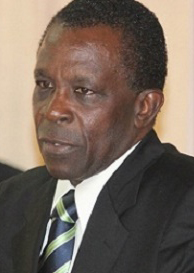 St GEORGE'S, Grenada, CMC – Grenada's Prime Minister Dr Keith Mitchell has warned that unless there is a change in the current administration of Cricket West Indies, instances like last weekend's shock win over England in the opening Test will remain one-off occurrences.
Speaking in the wake of the Windies' crushing 381-run victory inside four days at Kensington Oval, the veteran leader argued that sustained success on the field could only be achieved by proper leadership and management, and a governance system "that promotes the interests of the players". We have seen West Indies perform well in a particular game in the past but as one who understands the game well, I know you cannot make a final judgement on the performance of a team by one game," Mitchell said.
"As they say in areas of intellectual activity, maybe that's a one-off. I don't like one-off. I like it to be clear there's a permanent change in attitude."
He added: "As I have said over and over, unless the administration changes, I do not think we will see the kind of performance we need to." Mitchell is a former chairman of CARICOM's Prime Ministerial subcommittee on cricket and has continued to lobby for governance reform in West Indies cricket. During his tenure, he found himself at odds with the current Dave Cameron-led administration when he endorsed the CARICOM-commission Governance Report, which among other recommendations, called for the "immediate dissolution" of the current board and the appointment of an interim board "whose structure and composition will be radically different from the now proven, obsolete governance framework."
CWI dismissed the recommendation as "impractical" and an "unnecessary and intrusive demand".
Mitchell agreed while there was an abundance of talent in the region, West Indies were suffering from a lack of leadership. "I always believe we have the talent in the region; I never think we are short of talent," he pointed out.
"Maybe we will not see a Gary Sobers or Brian Lara emerging, but we have the talent to ensure that we can extract the maximum performance, but it requires the leadership, management and governance system that promotes the interests of the players and the unity of the region as a whole.
"I think that is the fundamental thing that is lacking and I hope we see a change in that regard."
West Indies face England in the second Test of the three-match series starting Thursday in Antigua.
Around the Web