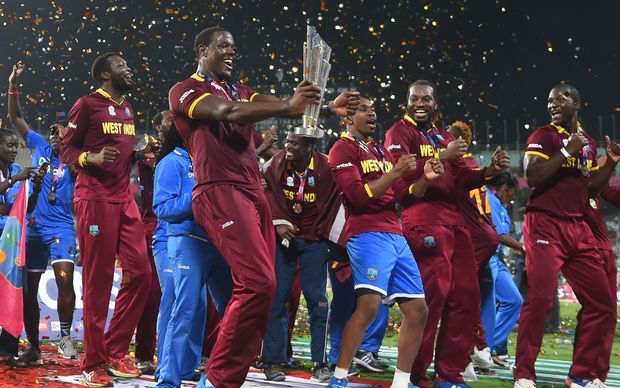 LONDON, CMC – Defending champions West Indies will open the defence of their title against New Zealand, in the highly anticipated edition of next year's men's Twenty20 World Cup in Australia.
In the fixtures released yesterday by the International Cricket Council, the Caribbean side was installed in tough Group 1 alongside the likes of World number one side Pakistan, powerhouses Australia and two yet-to-be-determined qualifying teams.
Group 2 is headed by powerful India and includes England, South Africa and Phil Simmons's Afghanistan, along with two other teams from the qualifiers.
Twelve teams will contest the Super 12 first round, with the eight automatic qualifiers joined by four teams from the qualifiers which will be contested from October 18-23 in Group A and B.
The tournament proper will run from October 24 to November 15, 2020 in eight cities and 13 venues, with the Sydney Cricket Ground hosting the opener between Australia and Pakistan on October 24, and the Melbourne Cricket Ground staging the grand final.
West Indies take on the Black Caps in Melbourne on October 25 before clashing with the hosts in Perth three days later. The two-time champions then take on one of the qualifying teams in Perth on October 29 before travelling to Adelaide to face Pakistan on November 3.
West Indies then round out their first round campaign on November 7 against another team from the qualifiers.
Under former captain Darren Sammy, the Windies won the first of their titles in 2012 when they beat hosts Sri Lanka in the final in Colombo. Their second triumph came in 2016 in Kolkata when they won a dramatic final in the last over against England.
However, their form since then has been patchy, resulting in their number seven world ranking. Last year alone, they lost 10 of 14 T20 Internationals.
Meanwhile, the women's tournament set to be staged against as a stand-alone event also in Australia earlier in 2020 from February 21 to March 8, with the final carded for International Women's Day. Like the men's tournament, games will be played in eight cities and 13 venues, with the opener set for Sydney between Australia and India and the final scheduled for Melbourne. West Indies have been installed in Group B alongside England, South Africa, Pakistan and one other yet-to-be-determined qualifier while Group A comprises four-time champions Australia, New Zealand, India, Sri Lanka and another qualifier. West Indies won the 2016 edition but failed in their title defence when the tournament was staged in the Caribbean last November as a stand-alone event for the first time, bowing out in the semi-finals.
Around the Web