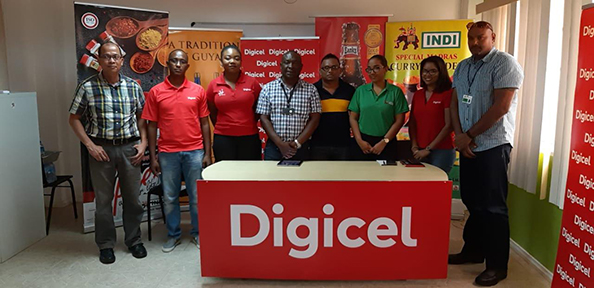 Communications giant, Digicel, in collaboration with Banks DIH Limited and Edward B. Beharry and Company Limited, GuyGas, Guyana Floodlight Softball Cricket Association and the Central Essequibo Cricket Committee (CECC) on Friday unveiled the fourth edition of their 'triple treat' event which features 10/10 cricket, duck curry competition and a concert on Perseverance Beach, Essequibo.
At the launch of the event at Digicel's Kingston head office, Retail Sales Executive, Seaon Jackman, explained that the tournament was not limited to teams from the Cinderella County only and said teams will be able to register from now until February 15, the closing date for entries.
The drawing is expected to take place the following day with the tournament beginning February 17.
Matches will be played every Sunday, culminating with a grand fiesta on March 31 under lights at the Anna Regina Community Centre Ground.  Secretary of the CECC, Rohan Budhram, said that he expects among 30-35 teams participating this year in the knock out tournament as opposed to the 26 teams which entered the previous year.
Budhram added that the event is one which sees thousands of people, even from Georgetown flocking to the beach for the party-like atmosphere, and predicts the same for this year.
Teams will only have to walk with their bats as balls will be provided. The final four teams will play with brand uniforms provided by the sponsors.
Digicel's Public Relations executive, Vidya Sanichara, said that there will be over two million dollars in prizes up for grabs with patrons, who can enter for free, accessing deals on handsets, among other promotions.
According to Sanichara, this event, like all of the company's social promotions, are special to the company.
Digicel's Marketing Executive, Luana Abrams, informed the gathering that the first 20 persons to register will be eligible for the duck curry competition where all the participants will receive consolation prizes with the first four receiving cash and prizes.
Abrams pointed out that the family event will feature an international artist who will be announced later on the company's social media account.
Beharry's Brand Manager, Monique Tiwari reflected on the company's longstanding partnership with the event, providing its Indi Curry Powder to the participants while Troy Peters of Banks DIH Limited  shared similar sentiments about the collaboration with the tournament in an effort to take softball to a higher level in the Essequibo county.
Around the Web