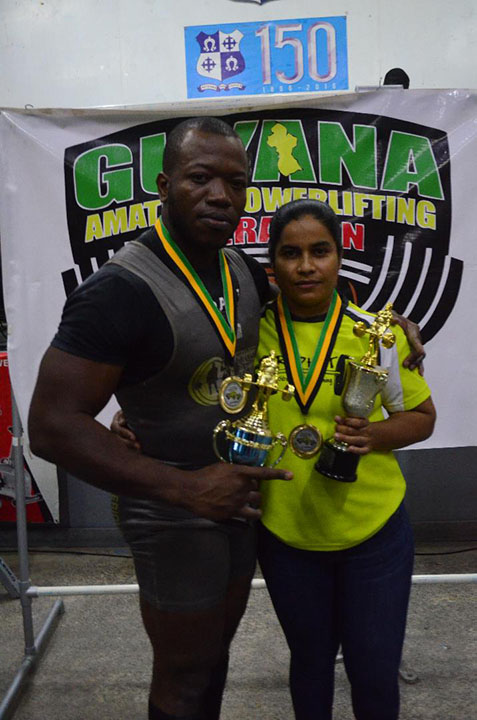 Fawaz Rampertab, Shelly-Ann Gomes, Jeremy Indarjit, Akram Gafoor and Tremel King were among the standout performers at the novices and juniors powerlifting championships, Sunday where guest lifters also produced record-breaking lifts at the St Stanislaus College auditorium.
The fountain of youth was overflowing at the championships as Indarjit, the best sub junior classic lifter, set records in the 66kg class with a 162.5kg squat, 80kg bench, 205 deadlift and total of 447.5kg. The Good Life gym product had a wilks points of 415.361.
His gym mate, Rampertab had the most wilks points of the day, 433.084 which earned him the best junior lifter (equipped) title. Lifting in the 74kg weight class, Rampertab had a best squat of 225kg, a best bench of 122.5kg and a best dead lift of 237.5. His total was 585kg.
Gomes of Buddy's Gym took the overall female novices crown, recording best lifts of 100kg (squat), 50kg (bench press) and 137.5kg (dead lift) in the 72kg class. Her wilks score of 287.960 was the best among the five female lifters.
Another Buddy's Gym product, Lisa Oudit (84kg class) who was guest lifting, also rewrote the record books.
Oudit lifting in classic style squatted 135kg, deadlifted 152.5kg, bench pressed 65.5kg and had a total of 353kg, all records.
Meanwhile, Gafoor (equipped) and King (classic) were the male open novices champions in the respective classes. Gafoor (59kg) squatted 135kg, bench pressed 85kg, dead lifted 160kg and recorded a total of 380kg. He earned a wilks points of 391.172. The 93kg King of Space Gym, recorded 400.796 wilks points after a best squat of 230kg, a bench press of 150kg. He pulled 257.5kg in the dead lift for a 637.5kg total.
Around the Web