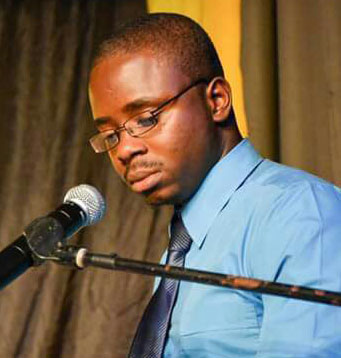 Keavon Bess is once again at the helm of local bodybuilding.
Following the Annual General Meeting and elections of office bearers yesterday at the Giftland Mall, the Attorney-at-Law was elected to lead the federation for the next two years.
Bess who previously served two terms prior to the Coel Marks-led administration, returns at a time when the sport needs all hands on deck for the heavy lifting that awaits.
Marks who lost to Bess 33-60 for the top post, was voted as the Vice President. 
Dravid Dharmdeo, (General Secretary), Nathan Wilburg (Treasurer), Eybo Orford (Assistant Secretary) and Videsh Sookram (Organizing Secretary) are the other members who make up the executive for the sport which has enjoyed immense success Regionally in the last half decade. 
Immediately, the federation will be tasked with getting their books in order and raising funds for the hosting of the Novices Champions billed for some time next month. 
The flagship National Senior Championships along with the CAC Championships in Puerto Rico is also imminent.
In an invited comment, Bess, the Legal Advisor to CACBBFF, told Stabroek Sport that "bodybuilding won" following the meeting yesterday.
"Today Bodybuilding won. The elections have been had and a new executive has been elected to continue to development of bodybuilding in Guyana. The numerous questions asked and discussions held has caused most underlining issues to be buried and the remaining issues, after being clearly defined, can be steadfastly addressed. 
He added that "Bodybuilding won because it has mandated two key players in the sport to work together for the betterment of each athlete and stakeholder. Bodybuilding won because the room for excuses has been diminished, if not extinguished. Bodybuilding won and for the next two years, bodybuilding in Guyana will continue to be paramount to it's executive members."
Bess then outlined the goal for the tenure of the new executive body.
"The intention is to ensure that there is full unity in the sport. Among the plan a for these two years is to have a full registration system of all the active athletes and to have such athletes issued with registration cards. Constitutional reform is on the front burner and will be addressed from the next athlete's and stakeholders meeting."
He continued, "Better and active committees must be established so as to micromanage certain aspects of the sport for its continued development. Relative to sponsorship, a marketing and sponsorship committee will be established so as to draft and implement the best strategies for garnering sponsorships. These are but a few objectives of the new Executive."
Bess concluded by thanking those who showed up and played an active role in yesterday's exercise.
Around the Web