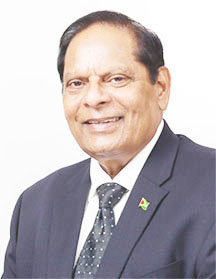 Prime Minister and First Vice President, Moses Nagamootoo has written newly elected President of Cricket West Indies (CWI), Richard Skerritt seeking a hearing on "matters of mutual interests."
Skerritt was elected to the helm of CWI on Sunday after defeating former President, Dave Cameron for the post by an 8-4 margin.
In the letter dated March 25 seen by this publication, the Prime Minister offered warm congratulations to Skerritt and Dr Kishore Shallow who was also elected by the same margin to the post of Vice President.
Nagamootoo's letter stated "As you are aware, the Guyanese people are passionate and unwavering fans of West Indies cricket and look forward to annual international cricket in our country. In this regard we look forward to engaging with you, Dr. Shallow and the CWI Board, soonest on matters of mutual interests towards the development and growth of West Indies Cricket."
The letter went on to confirm the Guyana government's "keen" intentions of "forging a stronger and mutually beneficial working relationship with CWI at the bilateral level, and on matters which have engaged the attention of CARICOM Sub-Committee on Cricket, and the role of the sport in the region."
Nagamootoo's correspondence entailed his acknowledgement of Skerritt's background in West Indies cricket Administration as well as experience in government which is suggested to "serve you well during your term."
The letter also sought to suggest a speedy "healing of strained relationships with players and other stakeholders," nothing their satisfaction with the Cricket First plan to which is expected to be executed fully region wide."
Secretary of the Guyana Cricket Board, Annand Sansei who is also a director on the Cricket West Indies panel had openly supported Cameron in his bid for a fourth consecutive term in office while rejecting Skerritt's proposal for a hearing.
Also, prior to the elections, Minister of Social Cohesion with responsibility for sports had appointed Attorney-at-law, Stephen Lewis as the Cricket Ombudsman, acting on consultation of CWI.
Around the Web