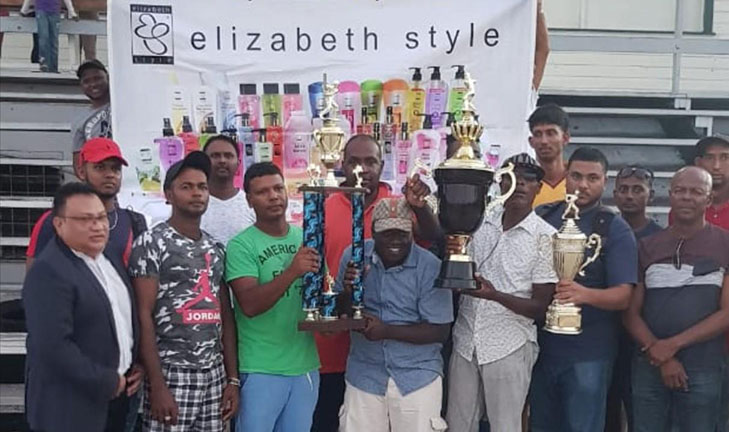 US based company, Elizabeth Styles has continued its partnership with the East Coast Cricket Board (ECCB), this year increasing its prize to $510,000 for the 40-overs round-robin competition which was unveiled on Saturday at the Better Hope Community Centre.
Among the officials attending the launch were Marketing Director of Elizabeth Styles Kevin Thomas via Skype.
Thomas said: "While this is the fifth consecutive year that we are sponsoring cricket on the East Coast of Demerara, we have also in the past sponsored Under 17, 19, 21 and development programmes in the county of Berbice and it gives us great pleasure to be associated with the game in Guyana.
"We believe that the ECCB is doing a great job and are quite satisfied with the way they have been administering these competitions and as such we wish them well," he added.
According to the ECCB, the winner of the competition will pocket $380,000 along with a trophy while second place attracts $80,000 and a trophy, and the best player in the final will also receive a trophy.
The ECCB has disclosed that this year there will be no zoning of teams since the sponsor had requested that every team on the East Coast be allowed to face each other. The competition is expected to bowl off shortly.
ECCB Vice-President and Competitions Committee Chairman Raymond Barton, speaking at the launch explained that 19 teams have entered the competition so far while four others have indicated that they are interested in participating.
"This competition is the largest Elizabeth Tournament on the East Coast regarding the amount of teams participating," said Barton.
Barton noted that teams as far as Abary will be competing with teams from the lower East Coast and he expects some thrilling and competitive cricket.
President of the ECCB, Bissoondyal Singh in his presentation noted that while the board is facing challenging times as it relates to receiving subventions and financing from what is given to Guyana by Cricket West Indies, they have managed to maintain a high level of cricket activities.
"Had it not been for businesses and companies like Elizabeth Styles it would have been a monumental task and so on behalf of the ECCB, the clubs and teams, I would like to express sincere gratitude to the management and staff of Elizabeth Styles for their generosity," Singh said.
Barton is requesting that clubs make contact with the committee in relation to participating in the tournament. Contact can be made on telephone number 626 0223 on or before tomorrow.
Around the Web