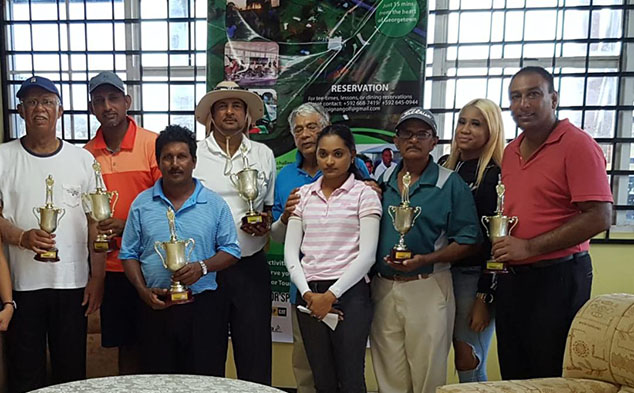 Mike Mangal, Ayube Subhan and Maxim `Danny' Mangra battled fierce competition before walking  away with the respective flight titles in the A&R Jiwanram Printery's second annual golf classic  Saturday.
Playing under dry weather and on an excellent Lusignan Golf Course, Mangra recovered from a satisfactory front nine to finish with a net of 65 while playing in the handicap flight of 21-30 with a handicap of 26.
Mangra was trailed by Clifford Reis and Dr Philbert London who both ended on 69/25 as well as Guillermo Escarraga (76/21).
In the 11-20 handicap flight, Subhan reigned supreme with a 73 net off a handicap of 15 that allowed him to edge past Bholawram Deo (73/18) in the back nine play.
Also, Gavin Todd (75/17), Mahindranauth Tewari (78/15) and Shanella Webster (79/15) showed their grit in the same flight.
However, in the top 0-10 handicap category, Mangal, playing with a nine handicap, produced a net score of 79 to take the first prize of that class.
Club President, Aleem Hussain was in close pursuit but never led, ending on 80/10 for the second spot as the two distanced themselves from the others.
Special prizes were awarded to Tewari for the Longest Drive and Subhan for the Best Gross.
Mangra won the Nearest To The Pin and he also took the tournament prize for the Best Net Score.
A&R Jiwanram Printery of 31 Back Street, Bel Air, Georgetown, is a modern professional Hi-Tech Printing and Graphic Design Company that does a wide range of print jobs including banners, clothing, calendars, books, wrappers, business cards etc., in small or large quantities upon request with a general maximum turnaround time of 24 hours. The company has been a strong supporter of the Lusignan Golf Club.
Around the Web