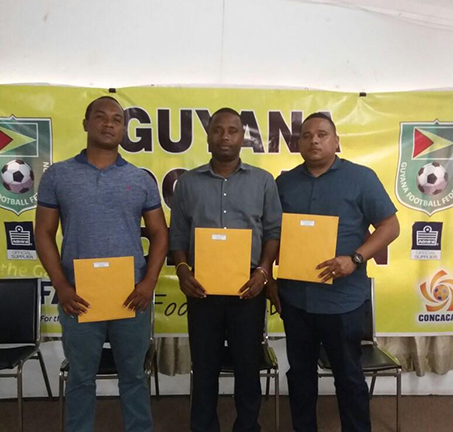 The extension granted by the Guyana Football federation to the Georgetown Football Association [GFA]-Interim Management Committee [IMC] has ended.
This was revealed by Trevor Williams, Chairman of the entity during a brief interview with Stabroek Sport who said the GFF granted extension ended in February this year.
"There was an extension but we are now outside that period. The extension finished at the end of February and we have not had any further extension. There was no official request by us for another extension but if we sat down with the GFF I don't think it would be a problem getting another extension. Officially they was not any request from the IMC or did the IMC put forward an official request for another extension," said Williams.
He added, "Technically it [IMC] is functioning, we have not been able to host the election for the association which is basically in my opinion the last  act of the IMC before handing over the association to the new executive."
The Guyana Football Federation (GFF), had appointed the three-member committee of Chairman Williams, Major Shem Fung and Nolan Lancaster to serve as the IMC of the GFA on July 9th for a duration of six months.
The aforesaid occurred after the federation had announced on June 30th via a press release, the dissolution of the GFA Executive.
Among the key responsibilities of the entity according to an official release from the GFF were "a. managing the daily operations of the GFA in accordance with the Constitution of the GFA. b. Organising the Annual General Meeting (AGM) of the GFA and organising elections accordingly by December 31, 2018, in accordance with the Constitution of the GFA. c. Organising the competitions of the GFA. d. Establishing an office for the daily operations of the GFA. e. Preparing and submitting monthly reports to the Executive Committee of the GFF."
Presently, the entity only consists of two members following the resignation of Lancaster during October 2018. Asked if the entity had filled the vacancy that exists, Williams disclosed, "It was not filled, that is probably the role of the GFF to add another person but to date none has been added."
He further said that the IMC is aiming to conduct elections within a month, adding, "I think a maximum of probably a month, most of the clubs have put their house matters in order and I don't think it would be difficult to stage an election in a month's time."
Meanwhile efforts to contact the GFF President Wayne Forde for a comment were unsuccessful. An electronic email sent to Forde yesterday went unanswered up to press time.
Among the questions posed to Forde were "1. What is the status of the GFA-IMC? Is the entity constitutionally legal given that is tenure expired on December 31st 2018 or did the federation extend the life of the entity? If yes, was it disclosed in any section of the media?"
 "2. Similarly, one of the mandates of the IMC was to facilitate the staging of elections in the association before its tenure. Why wasn't that accomplished by the entity and has a subsequent date been fixed for the AGM?"
Around the Web