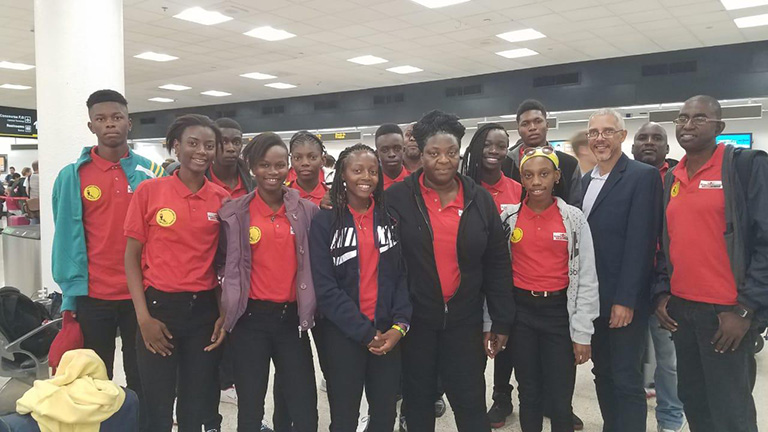 Eighteen local athletes and three officials departed yesterday for the 48th running of the CARIFTA Games in the Cayman Islands.
Three USA-based athletes, Chantoba Bright (long and triple jump), Joanna Archer (800 and 1500m) and Claudrice McKoy (1500 and 3000m) will join the contingent on the island nation.
The team, which is the largest declared so far by Guyana, will aim to return with a record medal haul following this Easter weekend's event.
Last year, the team won a record nine medals in The Bahamas.
Guyana, represented by 17 athletes, ended the meet with a gold medal compliments of long jumper, Bright, a silver and seven bronze medals.
In 2017, the team earned four gold medals, a silver medal and two bronze medals compared to two silver and three bronze medals in 2016. With such a large number of athletes taking part this year, the Athletic Association of Guyana (AAG) will be looking towards an even larger haul this time around from their talented athletes. This was reiterated by AAG's President, Aubrey Hutson yesterday. 
The regional championships which target Under 17 and Under 20 athletes, will see the athletes donning the country's colours as they compete for spots against their counterparts on the podium in 14 disciplines over three days of competition, April 20-22.
They will be gunning to display their best showing as it is one of the best youth development meets in world athletics. College and University coaches and scouts from the United States use the meet for identifying up-and-coming talent.
The officials are Amanda Hermonstine (Manager) and Coaches, Julian Edmonds and Raymond Daw.
Team composition:
Males: Wesley Tyndall – Running Brave (100m and long jump), Loneil Marks – Hopetown Flames (100, 200m), Osa Blair – Police (100m), Daniel Williams – Upper Demerara (200m), Cordell Charles – SUR (1500m), Daniel Melville – Police (800m), Matthew Gordon – Hopetown Flames (3000m), Melon Lowenfield – GDF (High Jump) and Tremaine Browne – CWSS (Long Jump).
Females: Brianna Charles – Running Brave (100m), Deshana Skeete – Christianburg Wismar Secondary School (CWSS) (200m), Keliza Smith – Running Brave (400m), Adriel Austin – Running Brave (800m), Shaquka Tyrell – CWSS (800, 1500m), Sheama Tyrell – CWSS, (3000m), Princess Browne – Running Brave (triple jump), Jahaziah Copeland – Upper Dem (shot put) and Anisha Gibbons – Ruralites (Javelin), Chantoba Bright (long and triple jump), Joanna Archer (800 and 1500m) and Claudrice McKoy (1500 and 3000m).
This year's Games will see the Cayman Islands hosting 26 countries and 500 athletes. It will consist of 400 volunteers and about 150 local and international officials. It is the premier track and field junior competition in the region. (Emmerson Campbell)
Around the Web