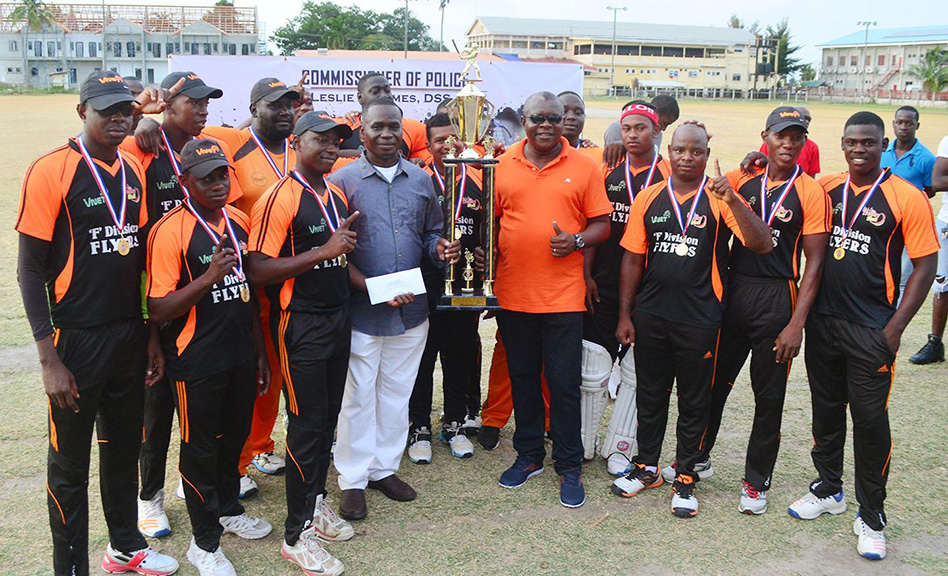 A brutal display of power hitting by Man-of-the-Final, Quintin Sampson, handed 'F' Division their maiden Police Commissioner's Inter-Division T20 title as they stormed to a seven-wicket win over the dethroned, President Guards (PG) yesterday at Eve Leary.
With the match being delayed by almost two hours as they awaited the arrival of Police Commissioner, Leslie James, 'F' Division's skipper, Trevor Benn won the toss and inserted PG in to bat in their fourth consecutive final where they struggled to 135-4 from their allotted overs.
The newly crowned champions then moved from a pedestrian's pace to a boundary-riddled back half where they reached 136-3 in 18.4 overs after four byes went past the wicket-keeper.
Police Commissioner James afterwards said it was truly an entertaining way to usher in his birthday, which he celebrates today and commended the organisers for a successful tournament.
He also singled out the players who have performed beyond expectation while showing the talent and diversity of the force.
'F'' Division, who remained unbeaten in the tournament, were in a spot of bother after losing opener, Leon Crawford (02) and tournament leading run getter, Lennox Andrews (02) at 30-2.
The snail-paced innings was further emphasized with Michael Jobe and Raul Haynes unable to pick up the singles as well as boundaries. Jobe's 33-ball knock of 30 featured two fours and two sixes, one of which was smacked over mid-wicket off a free hit before a leg before decision ended his stay and introduced Sampson.
The 20-year-old from Kara, Essequibo River muscled his way to a 23-ball unbeaten 65 as boundaries rained to all parts of the ground, including on the windscreen of a vehicle outside the venue, into the Red Cross building over long on and into the top deck of the pavilion.
Sampson, who was dropped on 51, a  chance  that went for one of his six sixes also stroked five boundaries and Haynes was happy to turn over the strike in his 28-ball 20 not out.
The Man of the Final, who blasted 22 sixes in the competition, the most in its history and received a signed bat by former National wicket-keeper batsman, Vishal Nagamootoo, said he backed himself to produce for his side and knew his wicket would have been the prized one.
He showcased his big-hitting ability against the opposition after Kester Harcourt had completed his quota of overs. 
After the match, Benn said, this was a memorable win for his team, pointing out that the side is made up of a number of guys who don't regularly play cricket.
 Benn singled out the exceptional talent in Sampson whom he credited for bringing home the title while extending gratitude to Commander, Kevin Adonis who has been the driving force behind their campaign and the late Sergeant Garfield Morris.
The successful captain also indicated that much of the success was due to the preparation and the facilitation of such which was done by the Malteenoes Sports Club and Meten-Meer-Zorg Club.
  Earlier, despite half centuries from both of PG's openers, they struggled to pick the gaps and accelerate throughout the innings.
Harcourt faced 55 balls for his 65 while hitting six fours and one six before being stumped with eight balls to go in the innings and end a 117-run opening stand.
Meanwhile, at the other end, Paul Tyndall had a difficult start and only advanced his scoring rate on the back end of his innings where he managed 55 from 51 balls and smacked five boundaries before departing via stumping. Crawford ended with 3-25.
Around the Web