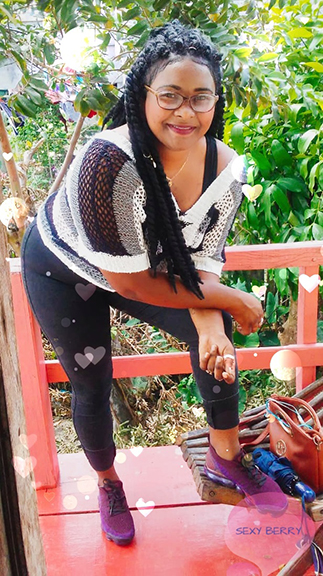 Guyana's newest Soca artiste Shaima Muna, who goes by the stage name 'Sexy Berry', will be competing in this year's Carib Soca Monarch competition for the very first time with her latest single "Nah Tired Yet" and has her sight set on the crown.
"Nah Tired Yet" speaks to the Guyanese woman's ability to carry on when it comes revelry. The song goes on to mention the unity of Guyanese especially on such occasions and promises that this Mashramani will be no less. The song is Shaima's second release and was written by her producer Levar Gittens and recorded at Caspa Records. Shaima's first song "Sweet Love" was written by her and released in June last year.
The artiste, who comes from a long line of singers, has been singing since she was nine years old. Her grandmother, mother and uncle, she said, were into music. However, none of them did any recordings, not yet that is.
Though Shaima focuses more on the Soca genre she is known to be versatile and has performed Dancehall and R&B at shows over the years.
The singer, who hails from Tuschen Housing Scheme, is confident and will be bringing it adding that she is more than happy to have such an opportunity and is certainly ready to take up the challenge.
"I'm taking the Soca Monarch as an opportunity to showcase my talent…," the young singer said, adding that she will do the best she can and hopes to be the best example for her five-year-old daughter Queen Layonce and to show her that anything is possible with hard work.
"Special thanks to my family for their support in everything I do; thank you to my friends, fans, my designer Sameer Khan and my sponsors – the Grill & Jerk Bar, and Ghozt Riders Entertainment," she added.
Shaima will be competing alongside approximately 20 other contestants and looking to take the monarchy from last year's winner, Brandon Harding.
She plans on releasing two other songs after the competition.
This year's Carib Soca Monarch Semi-Final is slated for February 9 and will be hosted at the Linden/Georgetown Municipal Bus Park. The finals will follow on February 16, at D'Urban Park.
For a listen to "Nah Tired Yet" or "Sweet Love" Shaima can be found on Facebook/Sexy Berry or on Instagram @ Shaima Muna.
Around the Web