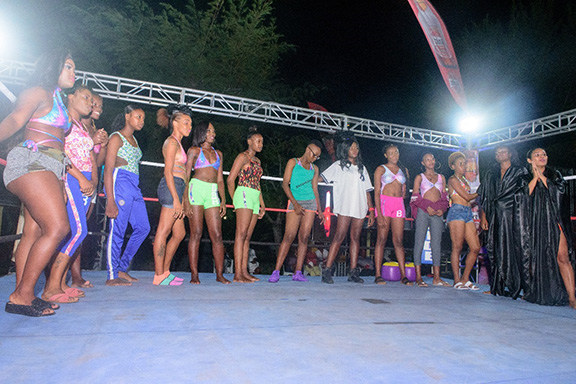 The Linden Town Week Washdown will have an added attraction this year – 'Women's Beach Bikini Boxxing' – which will see 10 competitors on May 1 at the Blue Lake.
This is the second episode of the competition which made its debut in November last year at the Splashmin's Resort. The event was presented by Bris O Promotions, headed by Seon Bristol, a US-based Guyanese, who has been promoting professional and amateur boxing in Guyana and internationally for more than 20 years.
The double x in the word Boxxing denotes that it is adult entertainment. However, the competition will be censored to cater for children accompanying their parents.
In a previous interview with The Scene, Bristol had said: "It is required that applicants are at least the legal age of 18 and are physically fit. Each contestant will be fitted with balloon-like gloves that are specially made to minimize and prevent certain injuries. The wearing of head gear is not compulsory. Those women who will not be contesting in the ring will be servers and will be uniformed in beach attire. The boxers, however, will be allowed their choice of wear for the event."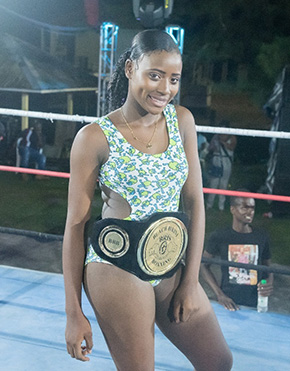 All contestants will be trained for the competition. The champion is determined by the people's choice, therefore, the woman most favoured by the crowd will emerge the winner. Mervette Mcinroy finished as last year's champion.
Bristol said last year's event was a major success which saw hundreds in attendance. This year's is expected to be bigger. He is hoping that sometime in the future the competition can be hosted regionally also where representatives from the respective Caribbean countries will compete for the belt.
Each participant will receive a medal and $20,000 including the champion who will also have the coveted belt and title.
The contestants will undergo one-on-one training with Guyanese and former Women's International Boxing Champion Shondell Alfred
The Town Week Washdown is promoted by Deon Joseph, who said it will include beach volleyball, football and cricket competitions. There will also be jet ski displays on the lake, trampoline and bouncy castles for the children and food and beverages will be on sale.
The Washdown will begin at noon and is scheduled to run until 10 pm. The Women's Beach Bikini Boxxing Competition is geared for 4 pm. Tickets cost $500 and can be purchased at the Muslim TopUp Shop in Linden.
Around the Web