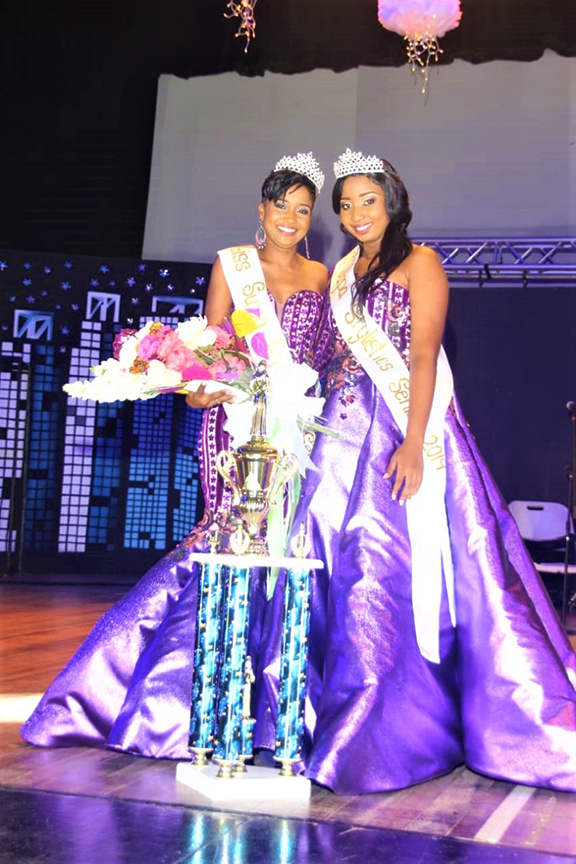 "All the hard work we put in has paid off," an elated Aleria Deeges said. Sixteen-year-old Aleria and her mother, Alicia, bested six other mother and daughter pairs in the senior category of the Supa Stylistic Mother and Daughter Pageant two Saturday nights ago at the National Cultural Centre.
Alicia and Aleria had always been fascinated with pageantry and over the years, whenever any of the renowned international pageants were aired on television, the two made it a date to watch them together. They were most captivated by the evening gowns in these pageants as they share a love of elegance.
However, aside from Aleria participating in a pageant at a school fair back when she was attending F E Pollard, the two never paid much mind to actual pageantry because of their busy schedules, though Alicia had always thought that someday when Aleria was old enough they would participate in the Mother and Daughter pageant. Then last year, their cousins Germaine and Kia Jacques walked away with the crowns in the senior category of the pageant and Alicia began actively considering the idea. Germaine encouraged them to get involved.
"Aleria and I are very close," Alicia said. "We have a good relationship and here we had the opportunity to show this to the world. When we entered, I remember telling Aleria we're going to win this…."
Alicia said she was sure of the win as the bond expected to be displayed on stage already existed between them. Learning their modelling routines was not complicated as they had both been members of the National School of Dance at different times. Because of this, they were quite comfortable with owning the stage and made certain they did that in the pageant.
Alicia shared that she began dancing with the school when she was three years old and continued until 2002, when she became pregnant with Aleria, her only daughter, and the elder of her two children. Any dancing after that was mostly kept within the walls of her home.
Aleria joined the school when she was five and is currently on a break to focus on her studies as she will be writing the Caribbean Secondary Education Certificate examinations next year. The teen confided that while her mother was sure they would win, she was not as certain, but had figured that even if they did not, they would place for sure. "It was past midnight when they were ready to announce the winners and I was so tired after the long day to prepare for the pageant that I ended falling asleep backstage. But mommy was excited to hear the results. After she heard the names of the first and second runners-up announced, she woke me up and said, 'Aleria, Aleria, we win, we win…' and they hadn't announced our names yet… They announced us the winners after I woke," Aleria recounted.
"I was pretty happy and excited. I didn't know whether to cry or laugh," enthused Alicia. She can't get enough of the beautiful photos that were taken of them and every day, she browses the gallery on her phone. The woman shared that she always felt like royalty adding that confidence plays an important role in how a woman sees herself. Often, she would remind her daughter that she is a queen and was born to stand out.
"We're close but the pageant has brought us much closer. It has pushed us to find the time for each other every time we needed to rehearse and has now found us making a habit of finding time for each other out of our busy schedules. When I get from work now, instead of both of us hurrying off with chores, we'd sit, and we'd talk about school and work," she said.
Alicia is employed at the Department of the Public Service, Ministry of the Presidency and Aleria is a fourth former at Morgan's Learning Centre, so it was quite a challenge getting to rehearsals. "I get off at school at 4.15 and mommy would come off at 5 and we had to get to rehearsals for 5 also, it used to be a rush. We live in Herstelling and by the time the rehearsals were finished it 8 or after, mommy has to come home to prepare the pot and I had my homework and assignments to get done. It used to be challenging but all the hard work we put in has paid off," Aleria shared.
Rehearsals, Alicia said, ran for a period of six weeks with all contestants expected to show up on Tuesdays, Thursdays and Sundays.
"I had told my boss that I was returning on Monday wearing my crown and my sash. Monday morning when I walked in at work, they were waiting for me to congratulate me," Alicia said.
"At my school they called me Your Highness," Aleria laughed.
Asked what their favourite part of the competition was before being crowned, the two agreed that it was modelling their gowns. Alicia and Aleria wore House of Pearson purple glittering gowns. The royal colour happens to be their favourite colour. Matching colours and designs is something they are fond of and when shopping they would select similar-looking designs and colours when picking out clothing.
They went big in their gowns for the pageant, as designer Quinton Pearson is known for nothing less. Alicia flaunted a fishtail design, while Aleria's was ballroom style. Their appearance onstage saw the crowd erupting in cheers of approval.
Pearson, Aleria noted, had designed the gowns of the winners for the last three consecutive years. In fact, the teen said she believes the designer should be awarded for his talent.
"Mr Quinton Pearson is the king of design…," Alicia said.
"I love my mother's smile. She's loving, caring and always put peoples' needs before hers. She would never leave a stone unturned when it comes to getting things done. She is dedicated to us getting a sound education," Aleria said.
Moved, Alicia responded: "I admire Aleria for how smart she is. She is loving and caring and mostly what I admire about her is that she is humble. She's a very humble child, always cool and calm. I would always tell her that being humble will see many blessings come your way."
Alicia and Aleria enjoy watching the "Real Housewives" series and Lifetime movies. Their favourite classical movie is The Sound of Music, but that is where their similar interests end.
Aleria, an Aries, loves listening and dancing to Soca music. Her favourite dishes are – fried rice and baked chicken, macaroni, stuffed eggs, cheese straw and roti /dhal puri and curry and baked custard. She enjoys reading on her phone and browsing the net.
Alicia, a Leo, enjoys listening and dancing to Soul music. She enjoys roti and curry, baked beef and baked pork, stuffed eggs, pepperpot, baked custard and Demico ice cream. In her free time, she enjoys reading.
Aleria is hoping to someday pursue studies at the University of the West Indies. She is still planning her career and is currently considering being a Customs Officer or an entrepreneur as options. The teen hopes to someday participate in other local pageants and international pageants also.
They both agreed that being part of the 28th edition of the Supa Stylistic Productions has been a remarkable experience and encourage other mothers and daughters to grab such opportunities.
Alicia and Aleria took the opportunity to acknowledge all who supported them, including Guyana Stationary and Office Supplies, Global Marketing Agency, El Dorado Trading, Copifix, RRT Enterprise, Star Party Rental, Atlas Security Services Inc, Andre Daziel, Mr Hopkinson, Dexter Cush, Renee Chester (makeup artist), Quinton Pearson and their family and friends.
A trip was said to be among the prizes yet to be received by the senior category winners.
Around the Web