After 29 years of painting signboards and logos for prestigious companies as well as productions held at the National Cultural Centre (NCC), signboard artist Max Massiah is looking to hang up his brushes.
"My proudest piece is the Georgetown Magistrates' [Court] sign and every time I watch the news and see that, I say to myself, 'That's my work'," Massiah said. That particular artwork of his has been there for almost a decade now and still looks like it was done mere months ago. The artist pointed out that the court's signboard was done using sticker decals instead of being painted as per norm. The sign was donated by the American University of Peace Studies, and as Massiah is their designated artist, this led to him executing the project.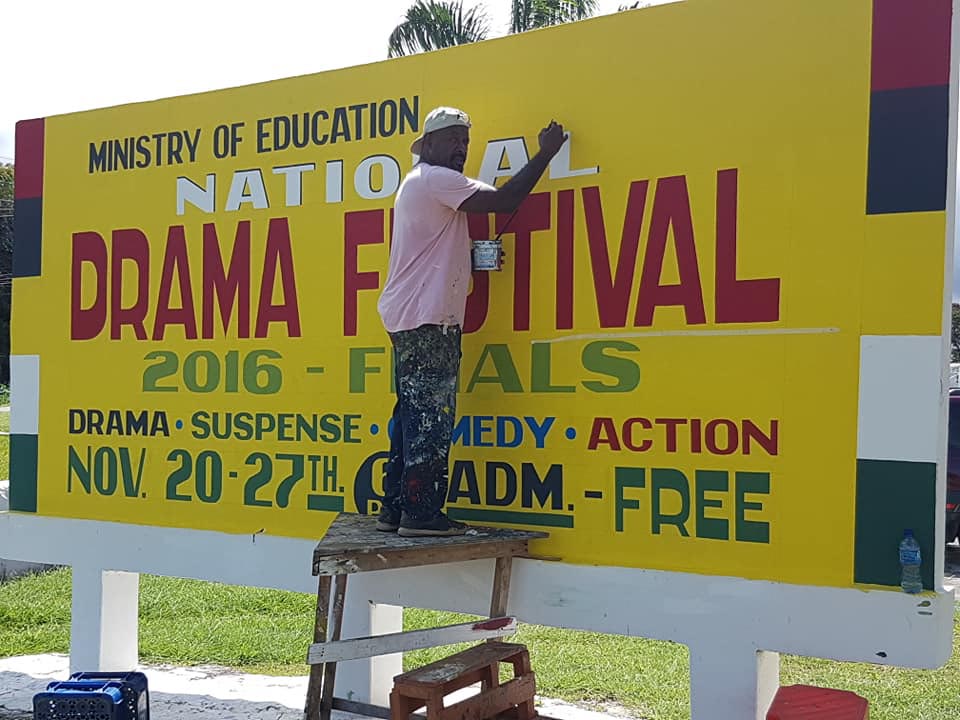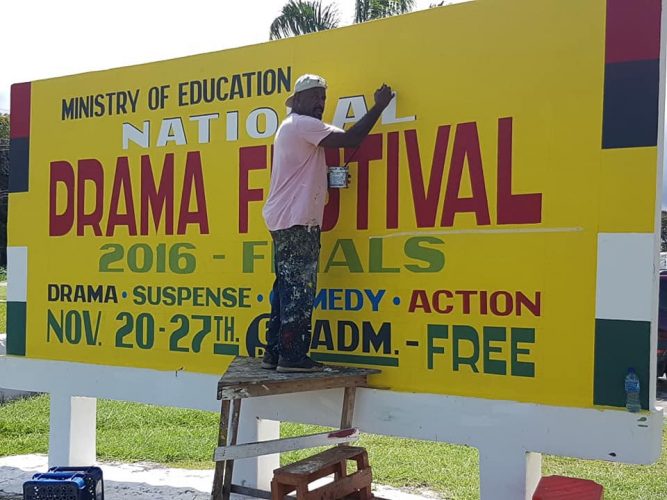 Time and time again, one may notice the sleek work at the NCC promoting an upcoming show. Though the centre has its own official signboard artist, Massiah is often requested. He began taking on projects for the NCC between 2002/2004. Over the years, he has been requested by producers, directors and actors, especially because of his neat and skillful artwork. Since early 2000 to date, Massiah has done more than 30 billboards.
The quality of work produced by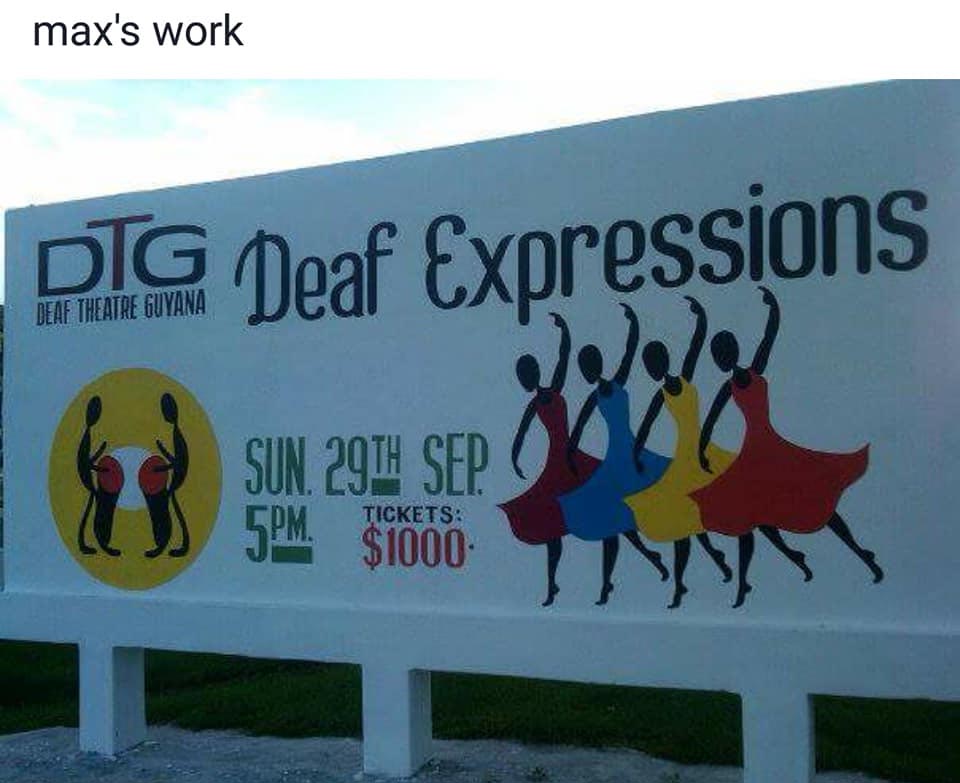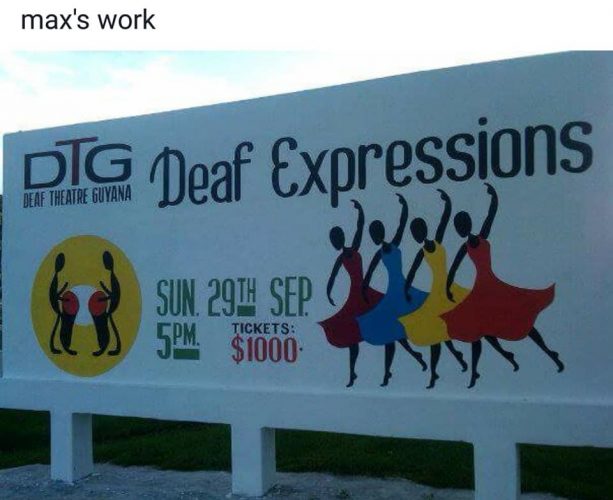 him, Massiah is certain, is not only because of how talented he is but also because of the quality time he puts into doing the art projects. The billboards are an average of 18 feet to 20 feet width and eight feet height. While some signboard artists take approximately four hours on one of these signboards, Massiah spends an average of two days. With his amazing eye and hand coordination he doesn't use any stencils to get this done and only requires a pencil, ruler, paint, his paintbrush and of course his hands. Owing to the producers and actors not always making much of a profit on their shows, signboards for them are charged at half the price than when it is work being done for a commercial company.
There are also lots of painted advertisements on the fence of the Joe Vieira Park that were done by Massiah. He was at one time the sole artist for Demerara Bank and the New Building Society, painting signboards as well as their flags. With regards to the flags, these are textile materials that Massiah would paint their logos on.
Among his other clients have been Hand in Hand Insurance Company; National Hardware; Gafoors, including at the Land of Canaan location where a 30 x 5 feet billboard stands; Guyana Beverages Inc; the High Commission of India; the Bank of Baroda; the Organization of American States Secretariat on Brickdam; the Inter-American Institute for Cooperation on Agriculture; Computer High Tech; Anand's Dental Lab; the National Park; and the late Pradeep Santani (late owner of Bhagwan's General Store) and for Liberty Cinema, which Santani had owned back in the day. Massiah did his first set of sign art at Bourda Market, which led to a part time career in the art for years to come.
Self-taught
"I had a friend who I went to school with and he pass and see me working on a sign at Regent Street. He was at [a loss] and said, 'Me and you go to school all this time – where I was when you learn to do this?' I took it up just like that because I'm good at using my hands. I was basically self-taught. I remember there was another guy doing signs also and when people saw my quality of work, he didn't get work anymore. Everybody waited until I was finished and till I had a whole set of work lined up. All of my work, I do my own measurements, my own calculations of the spaces between the letters, to make sure each letter has the same width, the same height, the body of the letter has the same thickness. I don't just do rough, wild freehand. I balance, and write and draw and layout my letters," Massiah explained.
In another interview done in 2016, Massiah had shared with this newspaper that early in life he learnt that he had to live up to the name 'Massiah' as his father, uncles and grandfather were all headmasters, lawyers, magistrates and judges. He was taught the importance of discipline, neatness and preparation. Growing up, his father, a perfectionist, had always said, 'what is worth doing is worth doing good or don't do it at all'. It is such teaching drilled in him that can be displayed in his art, work and character.
An example of this was some years ago when he was painting an advertisement for a tyre company on the fence of the Joe Vieira Park and was working on the tyre itself. During this time, the Demerara Harbour Bridge was closed to traffic and vehicles were backed up. "Some guys came over to touch the tyre to see whether it was paint or whether it was a poster that I stuck on the wall. It looked so real, they couldn't believe it was a painting," the artist recalled.
At 59 years old, Massiah has had his share of climbing, bending and reaching when working on such signs. He is no longer sourcing work but does plan on working on a sign once in a while if contracted. However, anything that requires climbing or too much work will not be accepted.
No nonsense self-defence
A second dan martial artist and coach, Massiah has a martial arts school catering to 70 persons of all age groups. He said that his age does not prevent him from being a martial arts trainer and pointed out that it differs vastly from working on a signboard. It's not being active that affects him though the climbing and balancing has affected his back. Having to stay in one position when working on a sign brings about stiffness in his muscles.   Massiah said that among his martial art students are prominent persons like attorneys, a police commander, and a former magistrate. His oldest student is 73.
Massiah, a four-time hall of famer, three-time hall of honour and two-time master in the sport, was recently appointed as the International Combat Martial Arts Federation/International Wushu SanShou Federation national president. He is also Guyana's representative for WISDA. Massiah produced his first set of black belts students last year. Of the recent class that was suspended due to the pandemic, he expects to produce an additional five black belts.
"Not to toot my own horn but my system is gaining rapid momentum for popularity as a really pure and devastating form of self-defence. I don't teach my students to fight. My system is to dislocate and break your limbs in under four seconds. It's not the kind of dislocation you'll go around by 'Cousin Jago' and he gon fix it; you got to go to the hospital to get it cast. It's a no nonsense self-defence, it's not karate, we don't kick and punch," he said.
Steering away from sport back to being a signboard artist, Massiah said that when he sees his work, he remembers the song 'Live clean, let your works be seen'.
"Every time I'm going at the airport, I marvel when I see that huge billboard at Gafoors at Land of Canaan still standing. I did that about ten years ago. I can brag about my work. Many signs will be done long after mine and would fade out and you can't make out what it is; my work stands for years. It's not just for the money, I have to be satisfied with my quality of work when it is done. While some artist will do work that looks shabby hoping that it fade out in six months and you will call them back to give them more work, I'm the total opposite. You must brag that 'hey you did that sign for me three/four years ago and it is still looking bright'. I put pride in my work," he said.
Massiah hopes to leave a legacy of his dedication to whatever it was that he put his hand to do. In fact, some years back while working, he was approached by a passerby who asked why it was that he didn't put his signature on his work. His reply was, 'I don't have to do that; my work is my signature'.