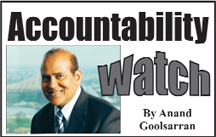 Introduction As I was about to prepare Part II of my article on the 2011 Auditor General's report on the Ministry of Finance, three media reports on the procurement of drugs and medical supplies for the Georgetown Hospital and the Ministry of Health caught my eye.

Each work has to pass through these stages – ridicule, opposition, and then acceptance.

There is a strong positive correlation between democracy, good governance and accountability. Democracy facilitates accountability, which in turn facilitates development.