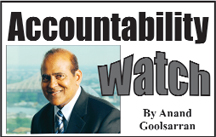 Our democracy here in the United States over the last two centuries has weathered the storms of war, economic depression, crime, drugs, corruption and scandal.

Part II Introduction Last week, we discussed four aspects of the Public Service that prevailed at the time I served.

When you see how the President makes political or policy decisions, you see who he is.

Freedom of expression – in particular, freedom of the press – guarantees popular participation in the decisions and actions of government, and popular participation is the essence of our democracy.                                                                                                                                                                                                                                                                                                                       

Last Monday was Budget Day, and I took the opportunity of outlining the budget procedures.

When corruption enters politics, the latter becomes contaminated. Definitions change, and loyalty to the King becomes the norm.

You are now at a crossroads. This is your opportunity to make the most important decision you will ever make.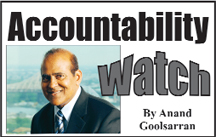 After a time man finds that it is not happiness, but knowledge, towards which he is going, and that pleasure and pain are great teachers.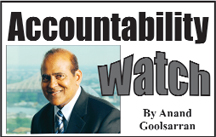 Wealth and honour are what each person desires. But if they have been obtained in violation of moral principles, they must not be kept.

Introduction In my last week's column, I gave a background to the Public Corporations Act 1988 and assessed the implications of the notification of 18 July 2000 relating to the vesting in NICIL movable and immovable property of the State.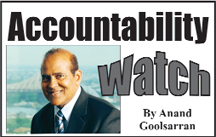 I do not care to know your various theories about God. What is the use of discussing all the subtle doctrines about the soul?

In this path (of disinterested action) there is no loss of effort, nor is there fear of contrary result, even a little practice of this discipline saves one from a terrible fear of birth and death.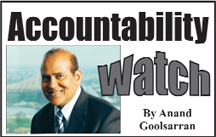 Introduction As I was about to prepare Part II of my article on the 2011 Auditor General's report on the Ministry of Finance, three media reports on the procurement of drugs and medical supplies for the Georgetown Hospital and the Ministry of Health caught my eye.

Each work has to pass through these stages – ridicule, opposition, and then acceptance.

There is a strong positive correlation between democracy, good governance and accountability. Democracy facilitates accountability, which in turn facilitates development.