Dear Editor, I think my last letter, 'The African Guyanese community has to find a way to develop strong financial independence,' (SN, April 8) was taken well and I hope soon to see some traction on my suggestions. 
Dear Editor, Rev Dr Dale Arlington Ramnauth Bisnauth was born on 30th December 1936 to Lionel and Phulmati Bisnauth at Plantation Better Success, Essequibo Coast.
Dear Editor, I am once more forced to correct an inaccuracy which appeared in an article in SN on April 9, captioned 'GFF elections campaign heats up,' by Iva Wharton.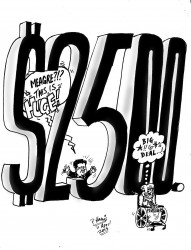 Business Cartoon
Dear Editor, I note with interest the letter by the Registrar of Lands, Ms Juliet Sattaur, in the Guyana Chronicle dated April 10, 2013.
Dear Editor, If one is a defensive driver one would have been aware of the impending danger  of the blind spots we encounter in our daily travels, especially when crossing major roads in the city. 
Dear Editor, Admittedly the experience of my own development biases me towards the 'old- fashioned' model wherein managers sought to support the growth of potentials ‒ not by 'molly-coddling,' but by challenging and testing them ‒ in those very 'halcyon days,'  the recollecting of which still serves to rejuvenate both Nowrang Persaud and myself.
Dear Editor, In wrapping up the budget debate in Parliament, Minister of Finance Ashni Singh was arrogant, rude and insulting to the opposition, especially AFC member Moses Nagamootoo and APNU shadow finance minister Carl Greenidge, the very group of people he depends on to pass the budget.
Hugo Chávez may be dead but chavismo is very much alive in the highly charged Venezuelan election campaign, due to come to a head on Sunday.
Dear Editor, Pandit Reepu Daman Persaud was the most popular and respected pandit in Guyana and the Caribbean and among the Guyanese and Indo-Caribbean diasporas.
Dear Editor, It has been brought to my attention that some schools at the just concluded Grade Six examination had their students do all the optional questions on paper 2.
Dear Editor, The Stabroek News front page of Thursday, April 4, shows a photograph of another parking lot on Camp Street.
Dear Editor,    The passing of Pandit Reepu Daman Persaud, simply known as  'Reep,' is a milestone in Guyana's history, for it is a real rite of passage in the sense that he represented the goodness which can be found in the narrow confines of Guyana's political world.