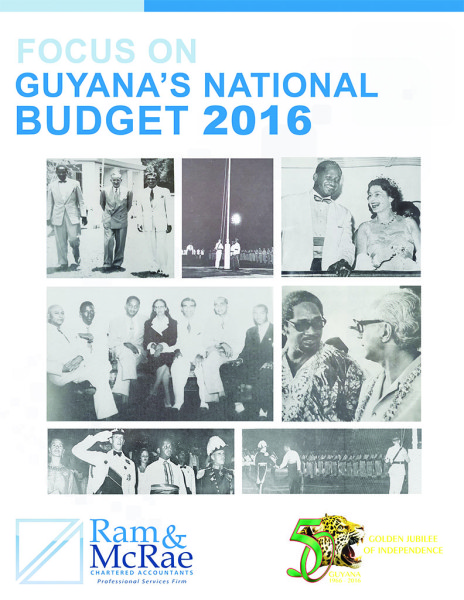 Focus on Guyana's National Budget 2016 represents the twenty-sixth edition of this Ram & McRae annual publication which highlights, reviews and comments on the major issues surrounding and raised in the National Budget.


Financial Review Current Revenue earned in 2015 of $161,710 million was $1,941.4 million short of budget.
As a matter of convenience this section highlights unresolved issues from pronouncements of earlier years and is presented in three parts – National issues, Campaign promises, and Pronouncements by the Minister of Finance in the 2015 Budget.


Policy issues The Minister of Finance Mr. Winston Jordan presented the second budget of the APNU/AFC Coalition – with the theme "Stimulating Growth, Restoring Confidence: The Good Life Beckons"and anchored on five pillars: National Unity, National Infrastructure, National Institutions, National Security and Public Services.


The Government's projected Financial Plan for 2016 is summarised and tabled on page ___ of this Publication.


Current Non-Interest Expenditure In this section we consider how the budgeted expenditure is allocated among the principal Ministries, Departments, Regions and Programmes.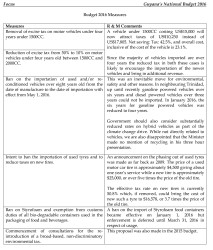 Section 6 of the 2016 Budget Speech contains thirty paragraphs of Budget measures, some of which are regulatory rather than fiscal.


Pension costs are rising in Guyana. The NIS was driven to near crisis as pension costs kept soaring.
Budget Focus welcomes the early presentation of the 2016 Budget and looks forward to the practise to the early years of independence when budgets were prepared before the end of the year.
Copyright Notice: Focus on Guyana's National Budget, © Copyright Ram & McRae 2016 The contents of this publication may be reproduced wholly or in part with due credit given to the Firm.