As we prepare to usher in a new year, we pay tribute to a remarkable individual, Randall Mohan Butisingh (RMB), who passed away on December 9th in Florida, just eight days after celebrating his 100th birthday. Thanks to Devanand Bhagwan, Cyril Bryan, Harry Hergash, daughter Joan Khan, Eusi Kwayana, Avin and Nalini Mohabir and Patanjali Ramlall, whose thoughts comprise this week's diaspora column.
Excerpts from an obituary page created by his family give us a small measure of the man: "Randall was born on December 1, 1912 in British Guiana (now known as Guyana), and raised in Buxton, East Coast Demerara, where he received his primary education. In 1925, he qualified and was the first runner-up for the first Buxton Scholarship. In 1927, he passed the School Leaving Examination and became a Pupil Teacher at the age of 15. This was the start of a 45-year long career, until his retirement in December 1972. Also, throughout his teaching career, Randall was a freelance journalist for the Guyana Graphic and Chronicle Newspapers. He was an entrepreneur in the printing business and was one of the largest suppliers for greeting cards in Guyana. In addition to his illustrious teaching career, he was the Social Welfare Officer of the Lusignan Community Center, and Lay Reader in the Anglican Church for 18 years.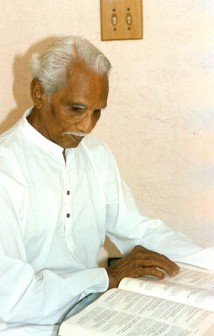 Writing poetry was his passion. In 1972, he published his first book of poetry, Love's Light, inspired by Helen Keller, who was blind and deaf. He dedicated this book to her and donated its proceeds to the Institute of the Blind. In 1992, he was awarded the Poet of Merit Certificate by the American Poetry Association. Always willing to share his knowledge, he became a member of the Guyana Hindi Prachar Sabha in 1976, an organization that sought to propagate Hindi in Guyana. He taught the language at the University of Guyana, and also held private Hindi classes for children. He was the organization's Hindi correspondent and editor of its journal, Gyanda. His literary accomplishments include three books of poems, a book of Thoughts, and several essays and letters to the press dealing with topics on education and morality. He received the Cimbux (Committee for the Improvement of Buxton) Education Award in 2003. In the twilight of his years, Randall's thirst for knowledge did not diminish. He studied comparative religion and Eastern philosophy. He taught himself to read the Arabic script and learned conversational Spanish. Randall completed several paintings and also played the flute, guitar, violin, and other musical instruments. Randall also learned to use the computer. In October 2007, Randall began blogging to share his life experiences, philosophy, and writings with friends all over the world. He first published drafts of his autobiography, My Story, on his blog, and was considered the world's oldest blogger. His autobiography will be released shortly."
The blog – with over 650 entries covering a wide range of topics – was established with the support of Cyril Bryan. In Cyril Bryan's own words:
"When I offered to do Teacher Randall's Blog in October 2007, I knew very little about designing them. I had not seen Mr. Butisingh since the late 1950's when he was a teacher at the Lusignan Anglican School. My dad, George Bryan was the school master there from 1945-1962.  Mr. Butisingh succeeded him after there as Head Master in 1962.
I lived in Buxton from 1947-1958 and during those years I knew Mr Butisingh.  Eusi Kwayana reconnected Randall Butisingh with me in 2005. He sent me a copy of his book 'Flashes of Light' as well as a collection of poems he had written.  I suggested that we publish his ideas before he passed. I suggested a Blog, and had to learn how to set up and maintain it.  He asked me to select items that could be included, and write my comments on the ones I did select.  He also wrote original items and answered the comments. He learnt how to input his Thoughts for Today items and monitor and answer the e-mails. By 2010 he was basically self-sufficient. After he stopped blogging I posted various messages on the blog and released the comments. I still do this as comments continue to come in regarding his passing.
When RMB stopped blogging he suggested that I begin my own blog.  I decided to start the Guyanese Online Blog and newsletter in March 2010.It may not be in existence today had I not first had the experience with Mr. Butisingh. He inspired me to do Guyanese Online without the thought of compensation for my work. If it serves a purpose, he said, then it would be successful…. I live by that philosophy.
RMB said that he wanted to live to 100 and he achieved that goal.  However, he believed in setting yearly goals for personal development, even at a very advanced age, his latest being Spanish which he started to learn at 94.   He looked at education as lifelong learning, and schooling as only the first step in that direction. He saw the connectivity between all living things and that oneness of mankind and sought ways of healing the divisions between  various religions by studying them and showing their similarities rather than their differences."
This inclusive approach is laid out by RMB himself, who a few years ago wrote that "I was raised as a Christian from birth by Hindu parents and grew up in the Christian Church, in a village which was predominantly Afro-Guyanese. But eventually I separated from the church as I saw it as exclusive and divisive and I wanted to be involved in all mankind…I am at present living in the home of my son-in-law and daughter, who are Muslims." In a remarkable three-part interview with Ameena Gafoor that was carried in Kaieteur News three years ago, he elaborates:
"I began to study comparative Religions and Philosophies. I believe there is a fine thread of truth woven into the fabric of all of religions, but very few are able to find it. Those who find it, the mystics, although their source may be different, find themselves in the same brotherhood journeying to the same destination. Those who [mis]take the fabric for the truth become exclusive and divisive, and therein [lies] the cause for conflicts. Many conflicts, brutalities and wars often have their roots in those who fail to see beyond the fabric…when I came to the United States of America, I learnt to read and write the Arabic script together with my son-in-law who is a Muslim. Now I can read from the Holy Qur'an from which I memorised some of the short Suras (chapters). I like the beautiful cadence of the Suras and also the elegant calligraphy of the script. I have read the Qur'an in English translations. Muhammad was a great Prophet, but some of his followers have strayed from his glorious example.I also read the Bhagavad Gita and the Ramayan and I was attracted to their philosophy of Monism which sees God in everything, and their lofty concept of Brahman, the Absolute, the incomprehensible, sheer consciousness and bliss and I have written articles on it. I also studied Buddhism and found some of its teachings parallel to that of Christianity. You may call me a Universalist, if you like. The true followers of every faith have had their inspiration from the one Source that has created and sustains everything."
Such a philosophy of openness is embodied in the discussion between RMB and Avin Mohabir on ancestral memory and homeland: "It became more complicated when I mentioned that my daughter travelled extensively in the Eastern Cape of South Africa and several other countries in Africa. RMB quoted a verse to me from a fifteenth century poet, Kabir, "when a drop merges into the ocean, everyone understands it; but when the ocean merges into the drop, seldom does one understand."
Nalini Mohabir first learned about Mr. Butisingh through his blog when she was a graduate student working on the last return indentures/ship (1955) from Guyana to India: "We began a correspondence on the history of Guyana. Mr. Butisingh, though never having met me, wrote beautiful, moving letters/emails on indenture history. I consider him an angel of history. Despite having moved (interestingly enough from Buxton to Plantation Acres, Florida), he carried his archives – both in paper trails and memory traces – with him. From his files, he shared a newspaper clipping – reporting on the difficult conditions in India of hundreds of repatriates from British Guiana – that was integral to my understanding of the last return. It is men like him, older men – from Fiji, India, Mauritius, Suriname, Guyana, (now living in places like New Zealand, England, Canada, USA, Holland) who wrote to me with words of encouragement during my graduate studies. Men like Mr. Butisingh who remind me of the extraordinary nature of diaspora, a force of imagination and an emotional energy that keeps alive and links our stories. What Mr. Butisingh gave me was much more than simply information – it was an investment in place and past. Through empathy, ol' talk, and mutual respect, diasporic people find ways, despite distance, age, and place of birth, to piece together far-flung histories. Mr. Butisingh taught me that what endures in memory is also a history, and as a Caribbean researcher I have a responsibility to listen beyond the official record. "
Honouring ancestral memories and keeping them alive in contemporary cultural practices was central for RMB. Pastor Devanand Bhagwan – who currently lives in India – noted: "RMB was instrumental in translating Christian Hindi bhajans into English for me prior to his emigrating to the U.S.!  While he was a professed Christian, he still largely embraced Indian culture – and was a volunteer Hindi teacher at the Annandale Mandir.‬"
Patanjali Ramlall, a student at Lusignan School in the late 1950s and early 1960s, goes on: "Like Tagore and perhaps unlike Tennyson and Shakespeare, RMB moved forward by engaging, participating, and shining the light for all to see.  His weapon of choice was appropriate education:
choosing to promote Guska, a sculptor from Annandale (neighboring village to Buxton) to the community at large; engaging budding poets, like Monar, Bramdeo, and Vidyanand; and seeking out the opinion leaders in Hindi language/ Hindu cultural activities. In the latter respects, RMB made presentations at Yeshu Kathas (story telling of Jesus Christ in Hindi).Traveling with RMB in the mid 70s to early 80s-from Crabwood Creek (Berbice) to Anna Regina (Essequibo) – he fashioned the magazine of the Guyana Hindi Prachar Sabha. RMB even inspired the Hindi loving masses by writing songs of motivation, Jai Hindi Jai Jai Bhasha Maa (Victory to Hindi!) put to music by the late S. K. Samaroo, Musician/Teacher/Cricketer."
We end with RMB's own words, written on the back of the photograph pictured here, which was taken in 1997, and which he sent to Nalini Mohabir: "Here I am with the Ramayan. This story gave the immigrants the courage and the fortitude to endure the hostile environment they found themselves in. Many of them were illiterate but they knew passages by heart and could have interpreted them. In the evenings or weekends you will find them in someone's hut chanting by the light of diyas somewhere in the Great Book. The Hanuman Chalisa also brought them comfort and hope and many could have recited the whole story from memory. Our forefathers bore their burden with patience, triumphing in the end."
Our condolences to the family of Randall Mohan Butisingh. Thanks to his blog, he remains with us. As we prepare to enter 2013, the lesson his life's example leaves us is of the constant student. This is no small accomplishment, for it requires incredible discipline, and an ongoing curiosity about life. Most significantly, it demands humility. To see oneself always as a learner leaves absolutely no place for arrogance. This is perhaps the most important teaching that Teacher Butisingh has left for us all.
RMB's blog can be found at: http://randallbutisingh.wordpress.com/