By Gerhard Ramsaroop
(This is the second part of five on the traffic situation. See part three in tomorrow's edition)
This is the second in a five-part series of articles on problems of road-usage in Guyana. The current chaos and disorder has many sources – political, economic, cultural and social. Added to these is the influence of foreign culture. One concerned citizen, for instance, wrote to this paper, pointing out the impact of the dance-hall culture on the way minibus drivers conduct themselves, and many have noted the negative attitudes and ill-mannered behaviours of some of the nouveaux riches, who do as they please because they know they are well connected.
Our task here, though, is not to source the problems (that, perhaps, is a study to be undertaken by our university) but to identify solutions. Listed below are some short-term solutions that could be implemented within one year.
1. Install speed limiting devices in mini-buses. These are the main culprits in speeding, and speeding is the greatest cause of accidents.
2. Speed limiters should also be installed in large trucks, not only to decrease the chances of an accident, but also to protect our roads from excessive damage. Speeds also need to be actively monitored and restricted on the Demerara Harbour Bridge (DHB) – you can often see speeding heavy trucks that no doubt add to the amount of repairs needed.
3. Deal more effectively with drunk driving – probably the second greatest cause of accidents. Increase patrols at bars and nightspots and apply the law without fear or favour. However, the law speaks to increasing the penalty with each successive offence, but we don't have a computerised database of offenders.
4. Immediately implement a computerised driver database that includes all driving offences committed.
5. Deploy undercover police (in pairs, and rotating partners periodically) in minibuses, taxis and unmarked police vehicles. Police using unmarked vehicles must be in uniform at all times, and those vehicles must not be on duty after 18:00 hours because of the current crime situation.
6. Deal condignly with individuals using a cell phone whilst driving. Other forms of inattention – eating, drinking or chatting with passengers – should receive a caution. Inattentive drivers, apart from the danger they pose, add to congestion as well. For example, by driving slowly in the right lane or getting caught behind vehicles stopping to turn because they did not notice the vehicle in front signalling and ending up too close to go around.
7. Enforce regulations relating to the playing of music in vehicles.
8. Implement many more bus stops and enforce their usage. Again, sustained patrols in unmarked vehicles along with undercover ranks in mini-buses will produce quick and lasting results. Mini-buses and taxis (hire cars) often honk their horns seeking passengers which adds to the already bad noise pollution problem we have. At nights they flash their bright lights seeking passengers too, much to the discomfort of other road users. The constant slowing and accelerating while seeking passengers not only adds to congestion and is dangerous, but it also leads to the premature wearing out of brakes and other components. Bus stops, also doubling as taxi stops, will greatly ameliorate these issues.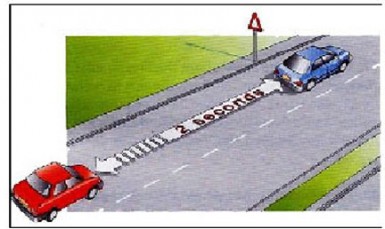 9. Adopt the two-second rule which tells a defensive driver the minimum distance needed to reduce the risk of collision under ideal driving conditions. The allotted two-seconds is a safety buffer, to allow the following driver time to respond. Of course, when driving is made more difficult, for example by poor lighting conditions, inclement weather or your personal condition more than two seconds between vehicles should be maintained.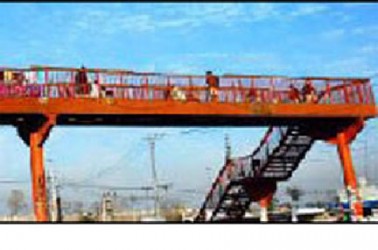 10. Immediately introduce overhead pedestrian crossings along with on-demand traffic light systems (puffin crossing in the UK) at street level for those who cannot cross overhead. Pedestrians are the most vulnerable on our roads, with the poorly designed East Bank four-lane Highway being a particular nightmare.
11. Introduce a sustained awareness campaign governing rules for pedestrians. Pedestrians must desist from using the wrong side of the road, sauntering across the road (jaywalking), or walking in large disorderly groups (school children particularly). Like drivers, they need to heed the instructions of police directing traffic or of traffic lights.  12. Implement immediately a three foot safety zone around motorcyclists and bicyclists, whereby they cannot be overtaken if there is less than three feet clearance. Cyclists are the next most vulnerable on the road and so it is also urgent that they are protected. Similar to pedestrians, there must be an awareness campaign targeting all classes of cyclists. Many cyclists ride on the wrong side of the road, go up one-ways, swerve in and out of traffic dangerously,  and do not dip their bright lights coupled with defects such as no running lights or working signal lights.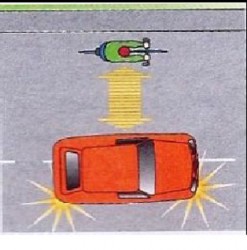 13. Increase police salaries and retrain traffic ranks. A senior traffic superintendent no less, told a friend of mine who was involved in a minor accident because the other driver did not yield at a blinking green that a solid and blinking green mean the same thing.
14. For minor offences, tickets must be issued on the spot. Drivers must not be required to go to the police station for minor offences, and traffic police must be advised accordingly. Only on the 25th of July last too, the driver of a canter attached to the hollow block factory that I run (Ace Concrete Products) was detained at a police station for mud-flaps!
15. Policing that is specifically designed to target the problems listed above should replace current police checks, which are of little effect since they deal mainly with documentation. When conducted during rush hour, such checks actually increase congestion.
16. Stamp out "boring" (the act of refusing to wait in a line and overtaking or using the wrong lane or shoulder to move up in a line), especially during rush hour and public events such as those at the Stadium, by consistently patrolling vehicle lines with police motorbikes and issuing tickets on the spot to offenders. This is particularly needed at the Diamond New Scheme junction, Eccles Old Scheme junction and along the Riverview Public Road right in front of the West Ruimveldt Police Station.
17. Reintroduce big buses (52-seater) and encourage more midsize buses (26-seater) by making them duty-free and granting special concessions for spares, batteries, tyres and fuel. Operators enjoying these concessions must do so under condition of fare regulation.
18. Allow big and midsize buses to transport cargo and produce on their roofs, thereby facilitating easier movement of goods throughout Guyana, particularly for small farmers and entrepreneurs.
19. Build a modern central bus terminal for the big and midsize buses in the Stabroek Market area, relocating the fire station if necessary (to D'urban Park, for example). With fewer minibuses coming into the city it is expected that there will be greater order at the bus parks and in the city in general.
20. Introduce more overhead signs since signs painted on the roads are not always clearly visible.
21. Introduce the following new road signs: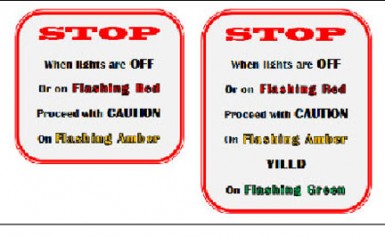 At all stop lights, where applicable:
On dual carriageway highways:




On two lane roads:

At Construction Sites:


22. Properly demarcate the Houston turn heading north, clearly showing the two right turning lanes and the single left straight lane, complemented with overhead lane arrows as shown.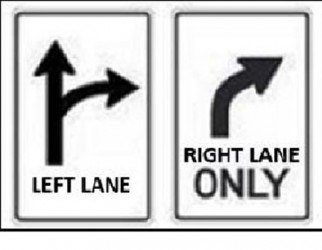 23. Embark on a sustained campaign to educate the public on correct road usage. Publish the rules of the road in the newspapers and air snippets on television and radio daily, for as long as necessary.
24. Prohibit the collection of garbage between the hours of 8.00 hours and 18.00 hours on weekdays or between 8.00 hours and 15.00 hours on Saturdays. No restrictions are necessary for Sunday collection.
25. Restrict agriculture tractors on the East Bank Demerara (EBD) Highway, especially those pulling long, heavy trailers as they often cause heavy traffic build up. In addition, the trailers often do not have brakes. Passes defining hours of operation can be granted by the police.