Manager of the Guyana T20 cricket team that ended as runners up to Trinidad and Tobago in the just concluded West Indies Cricket Board's Regional T20 cricket competition Alvin Johnson said that despite the disappointment of losing in the final, he viewed the tournament as successful.
"The tournament was successful in terms of what we wanted to achieve," Johnson told Stabroek Sport last night.
"We came out well in the end," he added.
Guyana's cricket has been affected by the implementation of an Interim Management Committee (IMC), bitter and prolonged court battles on a number of issues, confusion over the status of some members of the GCB and whether the GCB members should function at all and a range of other issues but Johnson said he was glad that the team reached as far as it did with the type of preparation it had and the issues affecting Guyana's cricket.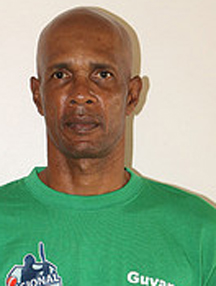 "I don't want to get into anything political but in terms of the issues, cricket will prevail in the end," he said.
Guyana reached the final after defeating Jamaica in the semi-final despite an unbeaten century 122 from West Indies superstar Chris Gayle and according to Johnson, the Guyana team really wanted to defeat the Jamaicans.
"We knew that we were capable of beating Jamaica. The players, they were hungry for it! They wanted it! The wicket was good for batting," said Johnson of the Guyana team….