(Trinidad Express) Cricket icon Brian Charles Lara appealed to the parents of the nation to lead the next generation to "greatness" and "a nation we can be proud of in the future".
The former Trinidad and Tobago and West Indies captain and world record-holder was addressing a gathering of teachers, principals and former pupils of his alma mater, Fatima College, on Saturday night after receiving an honorary plaque from the Fatima Old Boys Association (FOBA) for his distinguished service to the school and in the field of cricket.
"In front of me here are a lot of parents…and the message I would like to give is to let all the parents know how important a part you play in your sons' and daughters' lives… I am proud to be a Lara and to be Bunty and Pearl's son, but Bunty Lara, even though he enjoyed sitting in the pavilion with cricketing legends, what he instilled in me was discipline, respect for elders and the drive to try and learn something new every day…"
Lara admitted that the current climate in the country was not "comfortable", but expressed hope for a brighter future. "We know that today we all feel a bit uncomfortable with what's happening in Trinidad and Tobago and I hope that in this room we have people who can and will lead the youngsters in our country in the right direction… I would ask you all to ensure that you create and nurture the passage that will produce not just great sportsmen and women, but people that we can be proud of in Trinidad and Tobago…"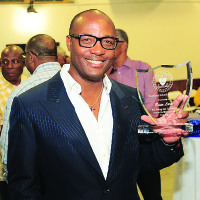 Lara and college historian Keith Simpson were both honoured at the "Extended School Assembly" event, which is held annually at the College Hall to pay tribute to former pupils who have excelled in various fields of endeavour.
Wendell Constantine served as the master of ceremonies, while brief addresses on matters of interest were delivered by FOBA president Dwight Andrews and chairman of the organising committee, Anton Marcial.
Lara attended Fatima College from 1983-1988, but did not complete Form VI as he was called to captain the West Indies team in Australia for the Bicentennial Youth World Cup, where the West Indies reached the semi-finals.