(Trinidad Express) The dreams of an aspiring cricketer was cut short on Sunday night when gunmen who came looking for his brother murdered him instead.
This murder has brought to 88 the number for 2014 while the corresponding toll last year was 84.
Ackinson Walker, 18, had about two years ago opted for a transfer out of San Juan Government Secondary School to Barataria South Secondary School because that school had a much more active cricket programme.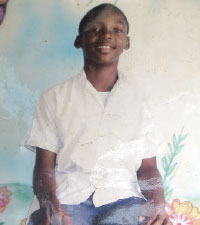 Police said at 8.30 p.m. on Sunday, Walker, of Third Avenue, Barataria, was sitting on the front steps leading to his home when he was approached by a group of men. The men reportedly asked the teenager to disclose the location of his brother.
The teenager was unable to give the men the information they requested and the group then made their way along the roadway asking other residents similar questions, police said.
When no one could tell them the whereabouts of Walker's brother, the men returned to the spot where they had met Walker.
One of the men then pulled out a firearm and placed the gun on Walker's neck and shot him once. Another man shot him three more times following which the group then fled the scene, police said.
The police were notified and a party of officers from the Barataria Police Station, including ASP Sylvester, Insp Khanhai, and PCs Ali and Mitchell, responded.
The wounded teenager was then rushed to the Eric Williams Medical Sciences Complex in Mt Hope where he was pronounced dead on arrival.
Officials from the Homicide Bureau of Investigations visited the scene and the area where the shooting incident took place was cordoned off.
A post mortem which was done on Walker's body at the Forensic Science Centre in St James yesterday morning, concluded that he died as a result of multiple gunshots to his body.
Both of his aunts were at the Forensic Science Centre.
One aunt who did not want to be named, said, "He (Walker) was going to church and playing his cricket. I mean he was a well-focussed 16-year-old."
His other aunt said  he was supposed to participate in a trial competition for a place on the country's under-16 cricket team and, "he knew that he would have made it".
Homicide Bureau officers are continuing investigations.