President David Granger yesterday said that education is the best investment Governments can make in preparation for the future development of any nation.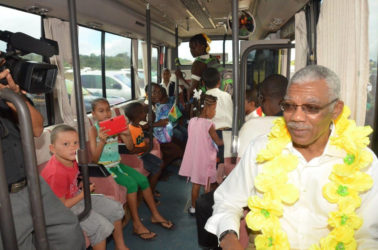 A Ministry of the Presidency press release  said that the Head of State was at the time addressing residents and students at the Coomacka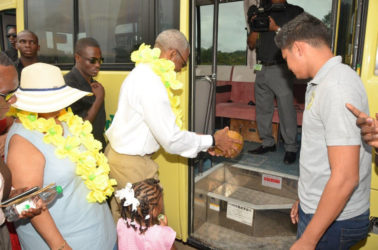 Community Ground, Upper Demerara-Berbice (Region 10) where he launched the 10th school bus donated under his Five Bs or 'Boats, Buses, Bicycles plus Breakfast and Books' Programme.
The 30-seater vehicle, donated by Suresh Jagmohan of S. Jagmohan Hardware Supplies and Construction Services, makes it the third time that school children of that Region are benefitting under the Five 'Bs' Programme, since two boats are already operational in the Berbice and Demerara Rivers. Chairperson at the event and teacher,  Shivon Green said, "Statistics has shown that since the onset of this programme, absenteeism and [poor] punctuality has reduced significantly. Our learners presently, are punctual to school."
The bus, which was commissioned will benefit children from Coomacka, Siberia, Nottinghamshire and other villages along the Old England stretch in Region 10.
Mayor of Linden, Carwyn Holland said that for years, children from villages like Coomacka, had to walk or ride for long distances with the alternative of paying fares that are unaffordable for families in that area. He also said that construction of the roads is also in the pipeline and this will bring further relief.