A Japan-financed project to fortify the East Demerara Water Conservancy (EDWC) has seen the construction and rehabilitation of six of the network's 33 intake/relief structures.
GINA said that the project was handed over on Tuesday to the National Drainage and Irrigation Authority (NDIA) at Flagstaff, East Coast Demerara.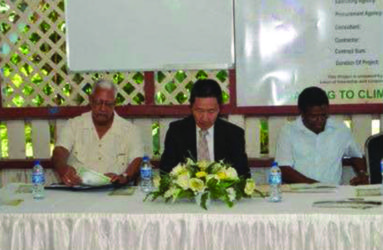 The two-phase project was aimed at procuring equipment and rehabilitating facilities for the improvement of the flood-control capacity of the EDWC. The compromising of the EDWC was seen as one of the key factors behind the 2005 Great Flood. Phase one of the project saw the procurement of equipment vital to the maintenance of the conservancy. GINA said that among the items acquired were excavators, aluminum boats and engines, 4 x 4 trucks, GPS devices and laptops.
Phase two which was funded by the Japanese government through the Japanese International Cooperation Agency (JICA) and executed by the Ministry of Agriculture in collaboration with NDIA had been scheduled for completion by March 2016.
The rehabilitation of the conservancy (phase two) had an estimated cost of $771 Million, with the Government of Japan contributing $755 Million and the Government of Guyana's contribution of $16 Million in kind. In September of 2011, Stabroek News had reported that then Minister of Foreign Affairs Carolyn Rodrigues-Birkett and Japanese Ambassador Tatsuaki Iwata inked a US$3.8m grant agreement for the second component of the EDWC repair work…..