Timehri residents, who once feared being forcibly removed from near to the Cheddi Jagan International Airport (CJIA) because of the ongoing US$150M expansion project, are breathing a sigh of relief as government has begun constructing new houses for them.
"It is in phases, but I would expect that it should be completed by [year-end]," Minister of Public Infrastructure David Patterson told Stabroek News yesterday, after an airport expansion project site visit.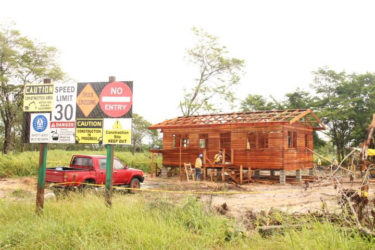 The Public Infrastructure Minister said that expansion work at the CJIA has been continuing apace and he led a team, comprising officials of the CJIA; engineers and officials of the contracting company, China Harbour Engineering Company (CHEC);  the Environmental Protection Agency (EPA); the Guyana Civil Aviation Authority and the Guyana Defence Force (GDF), on a site visit yesterday.
Stopping at a housing development area, a short distance away from where the current residents live, Patterson pointed out that a relocation housing scheme was being developed for those encumbering the current expansion.
Timehri North residents had complained from the onset of the project, back in 2011, that the then People's Progressive Party/Civic government was demanding their removal without word of where they could relocate. It created a bitter dispute between the residents and the then government as they argued that their families lived for as much as 40 years at the location and depended on the lands for cash crops…..