(Trinidad Guardian) "And as it is appointed unto men once to die, but after this the judgment," was the Bible quote Darlene Gordon used in describing her son Ronaldo Gordon's tragic death.
However, it was hard for the Moruga mother of five to accept the way her son's life ended: Gunned down outside a Princes Town bar on Sunday night.
Holding her own yesterday as she reminisced on the humble life Gordon lived, she said it was only now that she realised that innocent people were also murdered.
"When you hear people get gunned down, you would think they were gunmen, drug men or bandits but my son was a quiet and nice child," Darlene said.
Police said Gordon, 23, a security officer at Anscot Security & Service Ltd, was liming with friends outside Seerie's Bar at the corner of Manahambre and Circular Road, Princes Town, around 10.30 pm when a silver Nissan AD Wagon pulled up.
Two gunmen came out and opened fire in the direction of Gordon and his friends before returning to the wagon which sped off.
Gordon was shot several times on the head and upper body and died within minutes. Bar patrons—Kareem Toussaint, 32, Samantha Roopnarine, 31, both of St Croix Road, Princes Town, Kabeer Mohammed, 20, of Charlotte Street, Princes Town and Joshua Sankar, 20, of Lothians Road, Princes Town—were all shot in their legs. They were taken to the San Fernando General Hospital where they were treated and warded in stable conditions.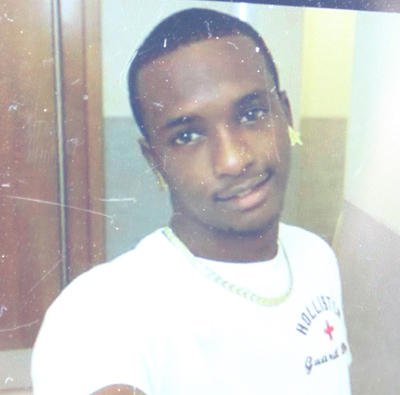 District Medical Officer Dr Bachan visited the scene and ordered Gordon's body to be removed to the Forensic Science Centre, St James, for an autopsy.
When the T&T Guardian visited Seerie's Bar yesterday, the carpark was still cordoned off with police tape and on seeing the news team, an occupant of the home upstairs the bar went inside and closed the door.
Police had no motive for the murder, saying that although it appeared Gordon was the target, he was not known to be involved in any criminal behaviour.
At their Bois Jean Jean home yesterday, Darlene said Ronaldo left home Sunday afternoon to attend a football match in Couva with two friends. While returning home that night, one of his friends saw someone they knew at the bar and decided to stop for a while.
She said they decided to have a drink and within two minutes of being there, the gunmen attacked. She said his friends escaped by jumping over a wall on seeing the gunmen.
"He was a quiet and nice child. I did not really have any problems with him. He did not really drink or smoke. Ronaldo knew he did nothing to no one so I'm sure he was not thinking that someone was after him. I can't see a reason why someone did this," she said.
She said her son had no threats to his life and had no issues with anyone. She said he was her only boy child and he worked as a security officer with his father at a T&TEC facility near Gasparillo.