PUERTO ORDAZ, Venezuela, (Reuters) – Residents of Venezuela's southern city of Puerto Ordaz enjoy pleasant views of the Orinoco and Caroni rivers and are a half hour's drive from one of the world's biggest hydroelectric dams.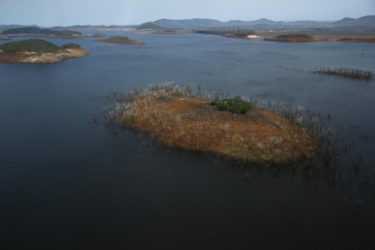 Yet most days they suffer water and power cuts.
The irony is not lost on Marelis Gonzalez, who runs the "Las Chinas" food store. She is fed up with constant outages that halt her fridges, making drinks lukewarm and spoiling meat.
"We should be the last ones without power or water," Gonzalez tuts at the counter on an oppressively hot morning without services in the middle-class, hilltop Villa Brasil district. "If it's like this for us, imagine those far away!"
Across the road, 82-year-old Arcelia Leandro is waiting patiently in her kitchen for power and water to cook lunch for her grandchildren. "It's been like this for three months, cuts every day. We've never had a situation like this. Horrible."
Venezuela's energy and water problems have escalated in the last few weeks: yet another headache for the OPEC nation's 30 million people already reeling from recession, the world's highest inflation rate, and scarcities of basic goods.
Officials in President Nicolas Maduro's socialist government say they can hardly believe their bad luck. After the global oil price collapse slashed revenues by more than half, along came the drought-inducing El Niño weather phenomenon.
That has sent water levels at the all-important Guri dam and hydroelectric complex, just south-west of Puerto Ordaz, to a record low and nearing a critical 240-meter level where some turbines would be inoperable.
"It's like having a car without any fuel," Electricity Minister Luis Motta told Reuters, showing where waters at Guri had receded to reveal long-sunken boats, form sand dunes, and even expose roads flooded in the 1960s when the dam was formed.
"It's difficult to defeat nature."
Already unpopular and facing an opposition push to remove him, Maduro has launched an energy-saving campaign and imposed rationing, although he euphemistically calls it a 'Plan for Load Administration.' But the government's main hope is pinned on late rains in the south, forecast for May or June.
Critics say the government is using El Niño as a convenient scapegoat to hide incompetent management of the electricity sector: insufficient investment, poor maintenance, corruption, and a failure to diversify away from the Guri which provides two-thirds of Venezuela's power.
After a 2009-10 drought that also led to electricity rationing and hurt late president Hugo Chavez's presidency, the government poured investment into thermoelectric projects to try to prevent a repeat.
Stalin Gonzalez, a lawmaker who heads the opposition-run National Assembly's administration and services committee, said $21 billion had been put into the electricity sector since 2010. "What did they do during all this time?" he asked.
Opposition politicians have lambasted Maduro's power-saving measures, including giving state workers a two-day week, urging women to reduce the use of hair-dryers, and changing Venezuela's time-zone so there is half an hour more light in the evenings.