Story and photos by Joanna Dhanraj
Success, East Coast Demerara, has a population of just about 2,000 people, many of whom work at the La Bonne Intention Estate will soon be shifted to the Enmore Estate.
Success existed the early 1900s. Why is it called Success? No one seems to know. According to a number of the villagers, it was also nicknamed 'Little Cuba' in the early sixties during the riots. They said persons from neighbouring villages, who wanted to raid Success at that time were prevented from entering the village because the people of Success remained united. Those who were able to invade Success, would have received a sound beating from villagers.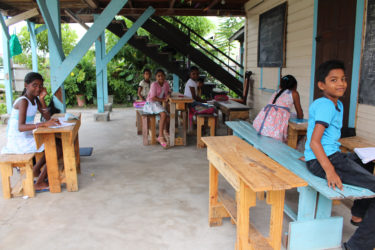 Princess Margaret Road in Success was given that name after the Countess of Snowdon's visit to British Guiana in 1958. According to villagers, Queen Elizabeth's sister had walked the length of the road until she got to the railway, which is now called the Railway Embankment. Thus it was thereafter called Princess Margaret Road.
Along Sideline Dam, a cricket game was in progress. Now a street, Sideline Dam was just a dam before. The Chateau Margot Nursery School is situated at the end of this street although the village of Chateau Margot is at the other end of Success. The school was built in the compound of what was once a market, but which closed down eighteen years ago owing to lack of business.
The street is littered with garbage and old pieces of metal. Two of the heavier pieces of metal look like old machinery and the weeds overrunning them indicate that they had been there for a long time. Nearby, water sprayed from a recently broken pipe.
Deonarine Sukhdeo has been a resident of Success since 1987. "The place was kind of rundown when I moved here," he said. "The road was bad. The water situation has much improved since then. We used to have to go down about three feet to the pipe level and set our bucket since the water pressure was low."
According to him, the market closed down because it did not have the support required. "Then another thing, the location wasn't convenient for persons…. Either in the late 1990s or the early 2000s, the school went up. Children from Success, Chateau Margot and Le Ressouvenir attend the school," he said…..