Rejecting suggestions of any conflict of interest because he was once a director of a locally-registered oil company, the Deputy Director of the Petroleum Directorate Nicholas Chuck-A-Sang says qualified Guyanese in the sector should be encouraged to serve their homeland without concerns that they will be influenced by their former employers.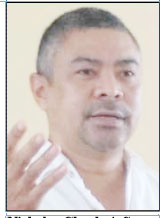 "We need to ensure that the best skills and the best people are trained and become, if possible, part of the government and on our side to ensure that the development of Guyana is put on a pedestal. You want those domestic skills," Chuck-A-Sang told Sunday Stabroek in an interview.
"You want Guyanese to choose that role and they should never be asked to choose between working in the industry and being able to serve their government and [having] that called into question whenever they do that," said the geologist by profession, who also worked for several years with the Guyana Geology and Mines Commission (GGMC), the local regulatory agency, which would soon be replaced by a Petroleum Commission…..