Fifty-seven-year-old Sumintra Bridgmohan dreams of one day owning a home and not worrying about where her next meal will come from, but it is a dream that may never be realized as the mother of eight does not have a steady job nor does she own a piece of land.
"I just want to get me own house and just try to live and be happy," she told the Sunday Stabroek in a recent interview.
For Bridgmohan, better known as 'Shanta' her 57 years on this earth have been a constant struggle and she wishes for an end to the physical and emotional pain but does not have the means to make this happen.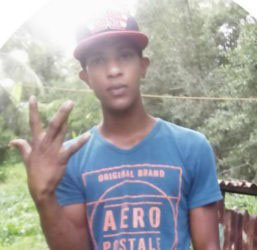 She should be celebrating as her daughter Debbie Hansraj was recently freed of a murder charge and has promised to find a job and help support her mother. But while she is happy that Debbie has been freed, the pain of losing her youngest son Vishal is still fresh.
Debbie was accused of murdering Vishal at the family's Covent Garden home last year in what, from all reports, was a drunken family melee.
"I glad she come out. Is me child but a still miss me son he can't come back," she said in tears.
Asked if she had forgiven her daughter, Bridgmohan said she was not sure what she needed to forgive her for, as she was unclear as to what happened that day.
"Nobody don't know wah happen. Nobody nah went home. Everybody went out because was Easter Monday and the school had a function and everybody went. I just know he come and say he get juk and she tell me later that she sorry he dead and suh and how she go wuk and help me," the woman said.
She related that she had an earlier misunderstanding with Debbie, as a result of which she sustained an injury to her foot.
"We bin a argue and then she push de door and me injure me foot and me an all been drink too and lil drunk," she admitted while adding that both of her children were under the influence at the time.
It was while she was about to be taken to the hospital that Vishal was injured and he entered the same vehicle and they were both transported to the hospital.
She did not say it, but it is believed that the young man, on seeing his mother's injury, approached his sister and a fracas ensued during which he was injured.
"He didn't dead the same day. I talk to he and he an all ain't tell me nothing. He just say how he want go home and a tell he when the doctor discharge he a guh carry he home," the woman said.
She described her son as "hasty and passionate" and added that "he use to cuss me and all up sometimes" but she loved him and is sad that he died.
"But nobody was there. Nobody know what happen that day. Nobody nah went home. And he been drunk and me been drink too so me can't remember what happen. Me nah went there," the woman maintained pointing out that she could not have assisted the police in their investigation.
She was asked to attend court as a witness, but she refused, and this led to her spending a harrowing five days in the lock-ups at the Beterverwagting Police Station, she said.
"It was five days with no food and water or nothing. Me sister bin a bring lil food for me but it was hard. And just because me nah want talk against me daughter and me nah been know wah happen. When dem tell me that me have to go and talk in court, she tell me nah go because me might get confuse and talk all kinda things," the mother said.
Eventually, she agreed to testify in court and was taken from the lock-ups to court where her testimony was taken.
"It was not easy, me child. It was not easy. Five days in lock-ups, hardly no food and water," she lamented.
She was in court when her daughter was freed and like other family members was elated. The young woman only visits their Covent Garden home, which is a small wooden house in the squatting area of the village on a dam, but she stays with a friend.
"She don't want to live here no more. You know people would talk and say things and she just want to live she life simple and not get involve," the woman said.
Can't stay here
Even Bridgmohan no longer wants to remain in the area where she has spent more than half of life.
"I don't want stay here. I want to move and get me own house. This place hay, nobody don't like we and then we nah get no water and light. I does gaffo get water from me neighbour. I does full two buckets," she related.
The house she lives in belongs to one of her sons who lives next door and allows his mother and siblings to use the small structure.
"I had a house, but it fall down and a loss everything. Is nah like me had nuff things but the whole house fall down and all me lil wares and suh break up and nobody ain't help me to build it back. It just deh right there," the woman said explaining how she came to be living in her son's house.
She does not have a job, but hopes to move to the East Coast and rent a home with two of her daughters, Debbie and a younger one who has a "lil wuk." Debbie hopes to find a job and support her mother. Another daughter is married and lives on her own. One of her four remaining sons is also married and lives by himself and the three others live in the house with Bridgmohan.
"All me children is one father, dem nah have no step in this… Me and me husband bin a marry but it was not legal. Me mommy and daddy help we get marry but because it nah legal me does still carry me father name," the woman said.
She said her husband died in 2008 from a heart attack.
"He dead and gone and lef me with nothing not even a plate or a cup. He nah bin a treat me good. He use to work and nah give me no money. And he use to beat me. Me get chop all kind a thing and a believe God just say leh he shut he eye and leh me get lil peace.
"Is only now I does get a lil NIS benefit: $13,000 when the month come and I does use it to buy me lil ration but it not enough. But at least I get dah from he. He was a cane cutter so now me getting survivor benefit from he pension," she continued.
Bridgmohan was a bright eyed 17-year-old when she married her 19-year-old sweetheart and she believed then that she would have been happy.
But eight children and years of abuse later, she now wishes she had never met him, though she loves all of her children.
"I never try to lef he because of dem children and because me nah been wan move from man to man. Me just want one man and is suh me stay with he. But he didn't good a tall but me try me best," she said when asked why she stayed.
She grew up in Enterprise, East Coast Demerara and some of her relatives still live in the village. Her husband was born in Covent Garden and he took her to the village but it never felt like home and now she longs to leave.
"I wish I could get lil help just to leave here. I not happy and I just want a lil house so I can be happy," the woman pleaded.
Asked if she received help for her drinking problem, the woman said, "Since me son dead, me nah drink no more. Me trying to change me life. I just want to find lil happiness now."
All of her life she has worked as a domestic and continues to do so.
"I just want peace and happiness, I need somewhere good to live and be happy."