Six year-old Arianna Hughes, who was among those hurt in an accident along the Kuru Kururu Public Road, Soesdyke-Linden Highway on Sunday afternoon, succumbed to her injuries early yesterday morning.
Police spokesman Jairam Ramlakhan and a hospital official yesterday confirmed the death of the child.
Ramlakhan said that Hughes, who was a passenger of a car, PMM 548, which was being driven by her mother at the time of the accident, succumbed at about 3.45 am yesterday at the Georgetown Public Hospital (GPH).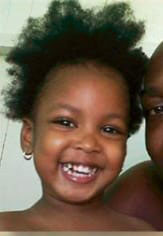 The deceased's mother, Shennelle Hughes, 31, remained hospitalised and was said to have been in an unconscious state at the GPH. Another daughter, Jada Enmore, 8, was admitted in the Intensive Care Unit of the GPH.
Two other occupants of the car, Tyrese Arthur, and the owner of the car Quinton Odle, also remained hospitalised yesterday. They were both said to be in a stable condition.
At around 5.30 pm on Sunday, PMM 548 and Route 42 minibus BHH 8451, which were travelling in opposite directions, collided, resulting in occupants of both vehicles sustaining injuries.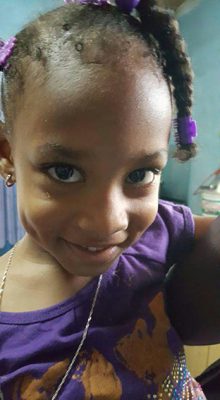 It is alleged that Shennelle was travelling at a fast rate and as the vehicles approached each other, she drove into a pool of water, resulting in her losing control of the car and it swerved into the path of the minibus.
Five passengers of the minibus—Prem  Persaud 46, Rookmin Persaud, Lakeram Persaud, 21, Nina Persaud, and 10 year-old Mahesh Hardat—were also hospitalised as a result of the collision. They were also listed as stable.
Prem Persaud and Hardat were expected to undergo surgery yesterday to repair broken bones. The others are also are expected to undergo similar surgeries.
One of the accident victims told Stabroek News yesterday that she could not recall what occurred. She said they felt an impact and not long after she realised they were being transferred to the hospital.
Seventeen other travelers, including two passengers of the car, were all treated at the Diamond Diagnostic Centre for minor injuries and were sent home.
Stabroek News was told that the passengers of the bus were returning from a Mother's Day outing at one of the creeks along the Linden-Soesdyke Highway.