A Mon Repos, East Coast Demerara fisherman died yesterday after a co-worker slit his throat at the Number 65 Village, Corentyne wharf during a fight.
The body of Devanand Jailall, also known as "Shetty," 38, is presently at the Skeldon Hospital mortuary, while his assailant, who has been identified as Reggie Ramsammy, 46, of Lot 100 Whim Village, Corentyne, is in police custody.
Stabroek News was told by a police source that around midday, Jailall and his co-worker were involved in an argument. Ramsammy is alleged to have subsequently armed himself with a knife and slashed Jailall's throat.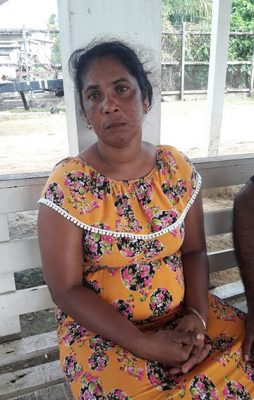 Commander of 'B' Division Lyndon Alves yesterday stated that police arrested the suspect last evening, minutes after 6 pm. He noted that investigators received an eyewitness statement.
A police source explained that the two men fought over the possession of an item on a boat, "Master Roberto SK 545," which Jailall was working on. The boat was docked at the Number 65 Village, Corentyne for offloading sometime on Tuesday after returning from Suriname.
Jailall's niece, Yashmanie Rampersaud, 20, of Port Mourant, Corentyne, yesterday related that her uncle had visited the family on Wednesday around 10 pm and requested to meet his son, 14, and his sister, Anita Lall, 40. "I didn't recognise him because he get long hair and then when he talk I know is he," the niece said.
Rampersaud explained that Jailall's son used to reside with them but he is now living at Albion, Corentyne. "I tell he come back today and I gon' take he," Rampersaud said, before muttering, "Best I did take he when he come."
Rampersaud further noted that her uncle promised to return yesterday to meet with his sister and son.
Meanwhile, Lall, of Lot 40 Port Mourant, Corentyne, cried uncontrollably yesterday at the Number 51 Police Station, while noting that the last time she spoke with her brother was at their mother's funeral a few years ago.