(TRINIDAD GUARDIAN) Hours af­ter work­ers of In­land and Off­shore Con­trac­tors Ltd (IO­CL) joined hands in prayer for the safe re­turn of Na­tal­ie Pol­lon­ais, a com­bined ef­fort by T&T's na­tion­al se­cu­ri­ty agen­cies led to her res­cue in El So­cor­ro, San Juan, last night.
Pol­lon­ais, 49, of Palmiste, is the wife of Ja­son Pol­lon­ais, a di­rec­tor of the South Oropouche-based IO­CL.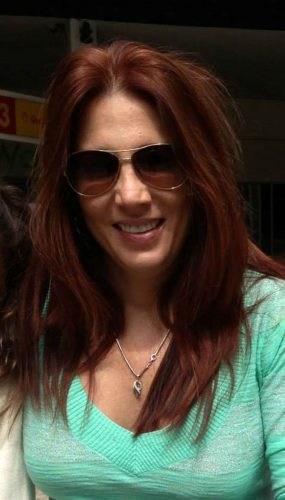 Com­mis­sion­er of Po­lice Gary Grif­fith last night con­firmed Pol­lon­ais res­cue dur­ing a hasti­ly called me­dia con­fer­ence out­side Po­lice Ad­min­is­tra­tion Build­ing, Port-of-Spain. He said af­ter hours of col­lab­o­ra­tion be­tween var­i­ous arms of na­tion­al se­cu­ri­ty, Pol­lon­ais was "ex­tract­ed". He said she was in good health and not­ed that no ran­som was paid to the kid­nap­pers. Grif­fith al­so said one per­son was ar­rest­ed but re­fused to pro­vide more in­for­ma­tion un­til the oth­er kid­nap­pers were held.
How­ev­er, news reach­ing the T&T Guardian was that po­lice had last night de­tained sev­er­al more sus­pects, in­clud­ing three of their col­leagues. The T&T Guardian was told a cor­po­ral at­tached to the High­way Pa­trol and two con­sta­bles at­tached to the La Ro­maine po­lice were be­ing in­ter­ro­gat­ed in con­nec­tion with the ab­duc­tion.
Re­ports in­di­cat­ed that the Or­gan­ised Crim­i­nal In­tel­li­gence Unit (OCIU) and the An­ti-Kid­nap­ping Unit (AKU) had been con­duct­ing sur­veil­lance on a white Nis­san AD Wag­on that went to a ho­tel in Ca­roni and left min­utes lat­er yes­ter­day be­fore they lat­er res­cued Pol­lon­ais from the same ve­hi­cle.  
CCTV footage ob­tained from C3 Cen­tre in Ste Madeleine, where Pol­lon­ais was seen be­fore her kid­nap­ping, had al­so shown two men wear­ing tac­ti­cal po­lice uni­forms en­ter­ing a white Nis­san AD Wag­on re­sem­bling the one she was res­cued from.
In­tel­li­gence sug­gest­ed that the kid­nap­pers were mov­ing Pol­lon­ais around, the T&T Guardian was told. A tac­ti­cal unit was de­ployed and the AD Wag­on was in­ter­cept­ed in El So­cor­ro and Pol­lon­ais was res­cued. A Ford Ranger, which was said to be ac­com­pa­ny­ing the wag­on, was found aban­doned in St Au­gus­tine. The two ve­hi­cles were tak­en to the Spe­cial Ev­i­dence Re­cov­ery Unit (SERU) in Cu­mu­to for foren­sic test­ing.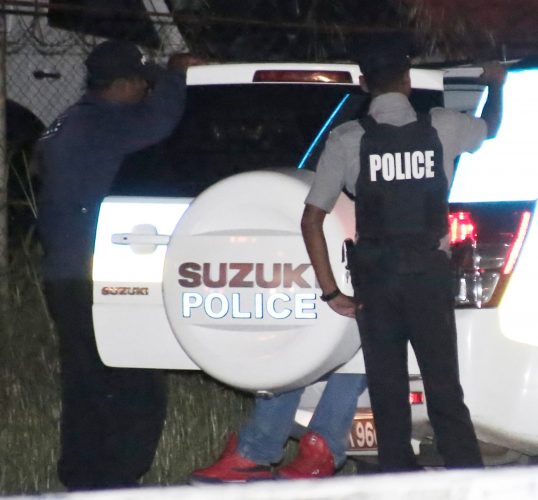 Last night, Grif­fith said around 7 pm of­fi­cers of the AKU, OCIU, Spe­cial Branch, De­fence Force and oth­er tac­ti­cal units em­barked on an op­er­a­tion to res­cue Pol­lon­ais af­ter four days and nights of in­tel­li­gence gath­er­ing. He said clin­i­cal plan­ning was done with the use of the Strate­gic Ser­vices Agency and the Na­tion­al Op­er­a­tions Cen­tre.
Af­ter be­ing res­cued, Pol­lon­ais was tak­en to the Po­lice Ad­min­is­tra­tion Build­ing where she met with Grif­fith. She was then tak­en to the Port-of-Spain Gen­er­al Hos­pi­tal for a med­ical as­sess­ment. Grif­fith said she was not harmed and was in good con­di­tion.
"This sends a sig­nal to all crim­i­nal el­e­ments: it is not busi­ness as usu­al. What you are see­ing here tonight with the ex­trac­tion of Mrs Pol­lon­ais, it is what we in­tend to do and will con­tin­ue to do. We can nev­er have a crime- free coun­try. What we will do is con­tin­ue to pro­vide the de­ter­rent and, with the as­sis­tance of the State, for us to en­sure the safe­ty and se­cu­ri­ty of this coun­try," Grif­fith said.
Last Thurs­day, Pol­lon­ais dis­ap­peared af­ter vis­it­ing the Cen­tral Ath­let­ic Club gym and some stores at C3 Cen­tre. CCTV footage showed she left in her BMW 5308 hy­brid sedan around 11.30 am. Her hus­band re­port­ed her miss­ing when she did not re­turn home.
On Thurs­day night, San Fer­nan­do CID and South­ern Di­vi­sion Task Force found her car aban­doned in the park­ing lot of an apart­ment build­ing at Cy­press Hills, Union Hall.
Al­so on that night, her kid­nap­pers con­tact­ed her fam­i­ly and de­mand­ed a US$300,000 ran­som for her re­turn. The kid­nap­pers al­lowed her to speak to her hus­band as proof she was alive. How­ev­er, they hung up when the is­sue of the cur­ren­cy of the ran­som arose. A source said that the fam­i­ly had gath­ered the mon­ey and was pre­pared to pay.
Min­is­ter of Na­tion­al Se­cu­ri­ty Stu­art Young said last night that the res­cue em­pha­sised Gov­ern­ment's com­mit­ment to sup­port all na­tion­al se­cu­ri­ty agen­cies. Young con­grat­u­lat­ed Grif­fith and the po­lice ser­vice, chalk­ing up the op­er­a­tion to hard work and "a bit of luck."
As news spread at the Unit­ed Na­tion­al Con­gress' Mon­day Night Fo­rum that Pol­lon­ais was res­cued by po­lice, Oropouche East MP Dr Roodal Mooni­lal made an im­me­di­ate call for her kid­nap­pers to feel the full brunt of the law.
"I trust that those held will feel the full brunt of the crim­i­nal law, I ex­press re­gret that they could not find Ria Sookdeo from my con­stituen­cy and so much more women who have been ab­duct­ed," Mooni­lal said.
Sookdeo, a moth­er of two, was ab­duct­ed near Di­a­mond Vil­lage, San Fer­nan­do, on Sep­tem­ber 16, 2016, af­ter drop­ping off her chil­dren to the Pic­ton Pres­by­ter­ian school.
Her hus­band Mark Sookdeo has been pray­ing for her safe re­turn since then.
How­ev­er, Mooni­lal pre­dict­ed that crime will in­crease if thou­sands of work­ers from Petrotrin are sent home. He al­so said that the PNM Gov­ern­ment led by Prime Min­is­ter Dr Kei­th Row­ley had a plan to sell the Pointe-a-Pierre re­fin­ery and bring dis­tress to hun­dreds of thou­sands of peo­ple.