Dover hat trick helps Richard Ishmael crush Central High
Richard Ishmael Secondary compliments of Roneldo Dover hat trick crushed an insipid Central High 5-0 in the latest round of the Milo U20 school tournament played at the Ministry of Education Ground, Carifesta Avenue.
Witnessed by an ample mass, the game started with the usual pledge of support in the fight against gender violence by both camps as their respective captains made terse proclamations in solidarity with the aforesaid purpose.
The opening whistle sounded and the Woolford unit went quickly into the early ascendency as they controlled the possession in totality. Attacking opportunities became common place as the Ishmael outfit began to find space through the dynamic duo of Dover and Raphael Fowler, who combined brilliantly much to the chagrin of the Central players who defended desperately not to concede.
The deadlock was finally broken in the most unfortunate of circumstances, as a combination of poor goalkeeping and defensive ineptitude led to Dover registering his name on the scorer's sheet with an absolute screamer in the 22nd minute.
The attacking impetus continued as the Ishmael boys consolidated their position with Dover once again at the fore, scoring with a ripper of a shot in the 31st minute to heap further misery on the dejected looking Central side.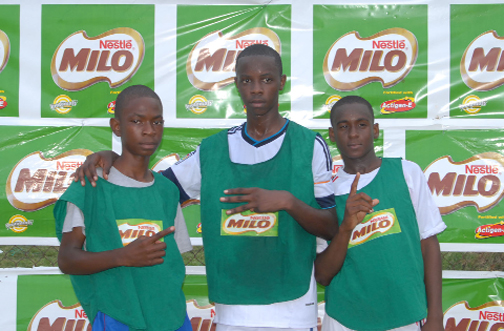 Struggling to find any form of attacking output, the Central boys were relegated to bystanders as the Ishmael outfit continued to press forward adding to their sizable lead in the 39th minute through a well-taken Kristoff Watts strike as lemon time drew near.
The second half progressed in the same manner with Richard Ishmael Secondary dominating proceedings and Central High palpably under siege. Desperately searching to find a creative spark, the boys from Smyth Street went on the offense, only to be easily disposed by the engine room of the Woolford Avenue unit.
Offensively in sync and technically in a different class, further goals were registered in the 62nd and 74th minutes by the creative duo of Dover and Fowler respectively, as the game meandered in its lopsided conclusion.
In the opening fixture of the day, Carmel Secondary edged a gritty Chase Academy 2-1 through Kevin With and Marlon Nedd conversions in the 39th & 44th minutes while Carl Semple was on target in a losing effort in the 46th minute and New Campbellville Secondary easily disposed of Sophia Special School who were anything but special 4- 0 with goals from Shamar Fraser, Keon David, Danile Ross and Akeel Pinheiro in the 4th, 25th, 57th and 62nd min to end the day's scheduled fixtures.