Advertise with Stabroek News
We are in the business of delivering credible and unbiased reporting on issues that matter in Guyana across several platforms - print, web, email and mobile. Everyday more Guyanese are embracing technology to read news content, and they are doing this while still consuming news in print. Our products are optimized for each platform and reach more people than any other local media offering.
Let us help you reach hundreds of thousands of Guyanese at home and in the diaspora.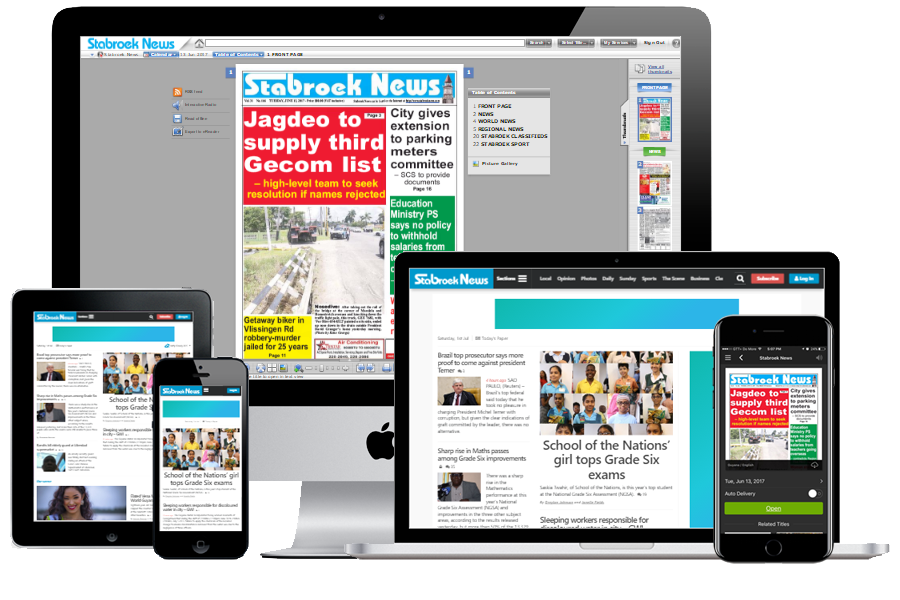 40,000+ Unique Visitors Per Day
Visitors to our website are highly targeted, and arrive mainly via browser bookmarks, targeted search engine queries, social media interactions, and highly relevant inbound links.
With our mobile friendly layout and responsive design, your ad will reach an audience that is receptive to your message across all devices.
Mobile - 60%
Desktop - 30%
Tablets - 10%
Devices
USA - 41%
Guyana - 21%
Canada - 9%
Top Visitor Locations
42%
Visitors (45 - 65+ years old)
16k
Newsletter subscribers
What We Can Offer
We offer opportunities for advertisers to reach this valuable, targeted audience. Our in-house design staff can help build and optimize your ads.
Print Ads
Make a big impact with a display print ad in The Stabroek News or Sunday Stabroek that is scalable to your budget. You can book any size you wish measuring by column inches, from an affordable 1-column by 1.5-inch ad to a whole page ad.
Your ad can be black and white, spot color or full color. Print classifieds, memoriams, death announcements and sincere thanks also available.
| SPECS | |
| --- | --- |
| 1 COLUMN | 1.5 INCHES |
| 2 COLUMNS | 3.3 INCHES |
| 3 COLUMNS | 5.1 INCHES |
| 4 COLUMNS | 6.8 INCHES |
| 5 COLUMNS | 8.6 INCHES |
| 6 COLUMNS | 10.4 INCHES |
| WHOLE PAGE | 14 INCHES BY 6 COLUMNS |
Contact us for the current rate card.
---
Get Started!
Are you ready to place an ad? Need rates? Contact Us Now
Advertising Contact
Email: stab.advert@gmail.com, adman@stabroeknews.com
Phone: +592-227-8569
Our office hours are Monday - Friday, 08:00 AM – 04:30 PM Guyana Time. You can generally expect a response within 24 hours.
Payment Options
Once your booking is confirmed, we'll send you an invoice.
We accept payments by Bank Transfer, and online via 2checkout.com with MasterCard, Visa, American Express or Paypal.