Crandon sees pink after loss to B/dos
- slams `irresponsible batting' by Guyana players
Guyana Coach Esaun Crandon slammed his team's irresponsible batting performance after their horrific home game loss to defending Regional 4-day champions Barbados on Sunday, but was still optimistic about his players resolving their errors ahead of their upcoming match against the Windward Islands tomorrow.
The former national all-rounder during an exclusive interview with this newspaper on Monday, said that his team's 136-run mauling on day-three was a result of poor, irresponsible batting while failing to capitalise on good starts.
"The batting was poor and we failed to capitalise which made it hard on ourselves," said Crandon. "We are better, regardless of the colour of the ball and having 92-without loss meant we had to be batting well at some point," Crandon pointed out. He refuted the notion that it was the unfamiliarity of playing with the pink ball which resulted in the team's dramatic collapse from 92 without loss in their first batting innings, to 140 all out. He also pointed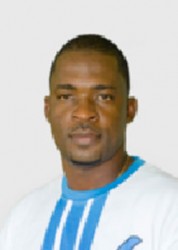 out that "A few bad umpiring decisions" aided his side's atrocious display with the bat. Being without the services of skipper Leon Johnson, Ramnaresh Sarwan and Shiv Chanderpaul who were ruled out of the first two rounds with injuries, meant that a weakened middle-order had to depend on their young batters to step up on home soil where conditions were expected to be familiar.
"At home we were expected to dominate and it was upsetting that we were bowled out in three days in our own backyard. We cannot always continue to depend on (Chanderpaul) Shiv and (Sarwan) Sars, we need the younger players who were given the opportunity to put their hands up," declared Crandon. Putting aside the horrendous loss served to them on a silver platter by the Bajans, Guyana will have to now press the reset button and focus on reviewing the blunders made in the previous rounds before they square off against the Windwards, eying a chance of redemption on home soil.
Also acknowledging that in order to have a sniff at qualifying for a spot in the final four, outright wins are the results required for the upcoming games, Crandon said: "The important thing is regardless of the disappointment in the first two matches we have to look forward to the remainder of the tournament."
The 32-year-old former Guyana player explained that after the second round drubbing he had a chat with his players about making mistakes and getting their mindset right. He noted that the encounter against the Windward Island is an "important match" and he urged the players to step-up their batting, while calling on his senior players the likes of Chris Barnwell, Narsingh Deonarine, Assad Fudadin and other to focus more and play responsibly. With the middle-order looking dubious thus far with the exception of Vishaul Singh who holds the team's individual top score of 73 which he patiently grafted against Jamaica, Crandon explained that with the third round match being reverted back to the use of the red ball and a 10:00hrs start time instead of the previous day/night structure, the guys are expected to be more relaxed but he still doesn't expect them to play reckless or irresponsible.
"We don't want to take players off their natural game, we just need our top order to set a foundation of at least 230-240 runs which can be used as a platform for the lower order batters who can come in a play freely but not recklessly," he concluded. Guyana will face the Windward Islands in round three of the West Indies Cricket Board (WICB) Regional 4-day tournament at the Guyana National Stadium, Providence from 10:00hrs tomorrow. Admission is free to the public.