(This is the second installment in the series of Guyanese boxers who have fought for Commonwealth titles)
Reginald Forde
Ford was born on June 11, 1953. `Reggie' as he is familiarly known, became the eighth Guyanese boxer to challenge for the British Empire Commonwealth  title when he travelled to Denmark on Sept. 14 1978 to match gloves with Ayub Kalule.
Middleweight Ford was to lose that bout by a fifth round kayo but bounced back to record a notable victory over former European champion Dave Robert Green who was also known as Dave Boy Green and Fen Tiger.
On November 3 1981, Ford retired Dave Boy Green, the former British champion. Ford had forced Green's manager Andy Smith to call a halt to the contest in the fourth round. Green was outclassed by an opponent who had fought six ex-world champions including Alan Minter, Marvin Hagler, Kalule, Mike Mc Callum, Mark Medal and Matthew Hilton.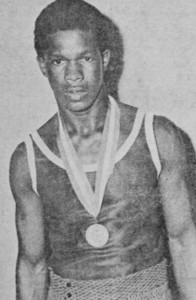 Only three fighters had ever previously beaten Green in his career; Carlos Palomino, and Sugar Ray Leonard who were world champions and Jorgen Hansen, a former European champion. It was a very good season for Ford who went on to defeat England's Kirkland Laing on points at the Royal Albert Hall, Kensington, London. Laing was to go on to gain a decision over the great Robert Duran.
Ford retired in 1985 with a record of 27 fights, 11 wins 15 losses three kayos and one draw. He now lives in the United States of America.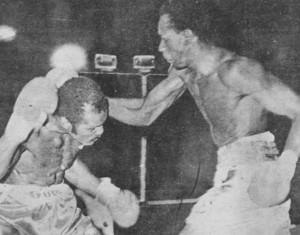 Kenny Bristol
Bristol was born on March 9, 1952. He is the first Guyanese to win a British Commonwealth title at home doing so on July 29, 1979 when he won the vacant light middleweight title by defeating Pat Thomas of Wales by a unanimous points decision.
He defended his title on February 24, 1980 winning a lopsided decision over Trinidadian Eddie Marcelle over 15 rounds. He defeated Reginald Ford for the junior middleweight title of Guyana on December 3, 1980.
In 1980 he was rated number three in the world.
He then travelled to Yorkshire, England on September 25, 1981 where he lost on points to Herol Graham for the Commonwealth British Empire Junior middleweight title.
In 1982 Bristol defeated Michael Dewar in Port-Au-Prince Haiti over 10 rounds.
He had his last bout against James Shuler in 1984 losing on points in Atlantic City, New Jersey USA.
Bristol retired on June 29, 1984 with a record of 24 fights, 18 wins and six losses.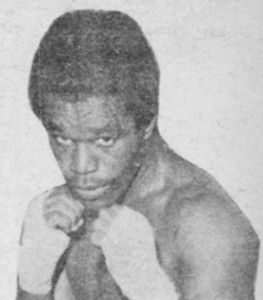 Mark Harris
Harris was born on June 16, 1952.
A former junior welterweight amateur champion of Guyana, he scored wins over Reginald Ford and Brian Muller but lost a close decision against Vernon Lewis for the welterweight title of Guyana. He then travelled to England on March 3, 1980 to challenge England's Colin `Grave Digger' Jones for the British Empire Commonwealth welterweight title.
Harris was floored in the second, seventh, eighth and also in the ninth round when the referee stepped in and stopped the contest.
Harris then won four fights before losing his last bout to Bobby Joe Young over 10 rounds on October 27, 1982 by a unanimous decision. He retired in 1984 with a record of 21 fights, 14 wins, seven losses and five kayos.
Mark Harris died on February 29, 2008. He was found floating in the Demerara River. He was 55-years- old.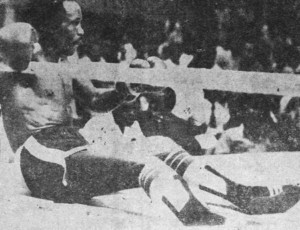 Patrick Ford
Ford was born on December 17, 1955. In what is probably the longest win streak by a Guyanese, Ford won 14 straight fights including the featherweight title fight against Dick `Tiger' Greene.
He went on to win the World Boxing Council (WBC) Fecarbox title against Enrique Solis before journeying to the National Stadium Sports Hall in Lagos, Nigeria on August 1 1980 to challenge Nigerian Eddie Ndukwu for the Commonwealth British Empire featherweight title.
He knocked out Ndukwu in the eighth round to become the second Guyanese to win a Commonwealth title.
Ford had decked Ndukwu, but the boxer was allowed to revive while Nigerian boxing officials checked Ford's water for stimulants.
Once the bout was allowed to continue however, Ford again decked his man this time for the full count to wrest the title from the Nigerian.
Ford fought his last bout in 1987 when he defeated the late Albert Browne over 10 rounds in a middleweight bout.
Ford retired in 1988 with a record of 21 fights, 17 wins (11 kayos) and four losses.
He now lives in the USA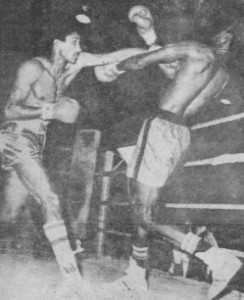 Derek `Teacher' Mc Kenzie
They called him the fighting teacher. He was born on July 20, 1957.
A school teacher by profession, Mc Kenzie had wins over Calvin `Valdez' Marcus (uncle of Andrew Sixhead Lewis) Desmond `Fat boy' Callender, Keith `Creature' Adams, Clifford `Piggy' Griffith and Maxie `Street fighter' Sargeant.
His bout with Winfield `Gold medal' Braithwaite for the junior welterweight title of Guyana ended in a draw.
Mc Kenzie lost to Michael Parsons and David Noel of Trinidad and Tobago but got his only crack at the Commwealth title on November 7 1980 against Obisia Nwankpa of Nigeria for the British Empire Junior welterweight title.
He was knocked out in the second round and went on to fight in London between 1982-1983.
He retired in 1986 with a record of 27 fights, 14 wins, 12 losses and one draw. He now lives in London.
Around the Web