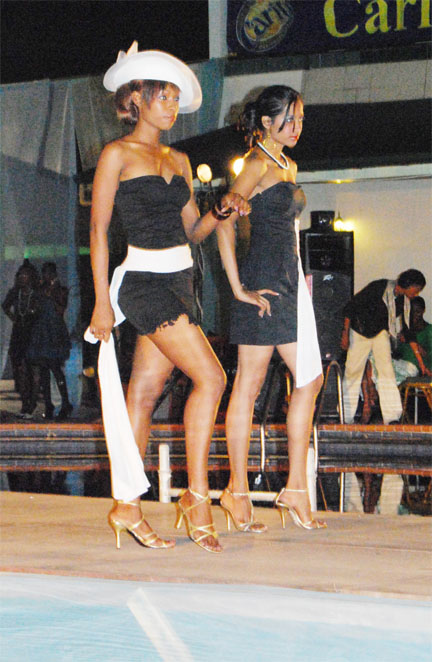 By Iana Seales
The outrageously good clothing that the Telford Sisters have stitched since the inaugural Guyana Fashion Weekend have soared to a more fearless, sexy, empowering place and it is hard not to feel tempted when their pieces are heating up the catwalk.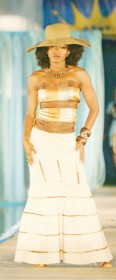 Stamping their authority on cool clothing, often with loud expressions of feminine power, designers at Sonia Noel's fashion weekend made a statement – it's a woman's world.
From the new and surprisingly good afro-inspired designs of model turned designer, Melessa Payne to the blazing hot white jackets of Shedell Burch-Smith, an assertive air of female dominance was everywhere on Sunday night as fashion weekend wrapped up at the Princess Buddy's International hotel.
Luciana
What is interesting about the show this year was that there were hardly any dull designer moments, and there is a need to concentrate on the collections because the models were largely lacklustre. Melessa had the distinction of 'lead model' deservingly, if only because no one works an outfit like her, but the night actually belonged to plus-size model Luciana out of Buxton.
The kind of energy and attitude we crave from catwalk models was just not there except for when Luciana was on stage. She was quoted as saying after the show, "Am just doing my thing." If only she could have showed a 'thing or two' to a few others. Guyana's reigning top female model, Yolanda Kerr, also won some approval.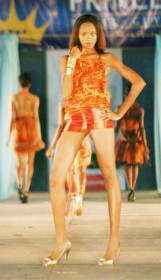 The question as to what is fashionable and current is the kind the Telford Sisters, Nadine and Nekeisha could easily answer.
"We are just trying to keep it real and stay true to what we do. It is just so humbling to watch people embrace what we do because we do things differently," Nadine told The Scene after the show.
The sisters Climax label is bold, assertive and sexy. The trademark black still dominates their collection and this year the emphasis was on prints. The collection featured tiny flair skirts, bustier tops, high waist jeans, and a string of hot leggings. Still heavy on accessorizing, the sisters went crazy on bows and incorporated huge bows into some pieces; if the bow was not on the outfit it ended up in the model's hair.
Mind-blowing to edgy
Black is also the choice colour of designer, Keisha Edwards, who showed on the opening night, and based on reports out of the fashion weekend camp, her collection was "mind-blowing." Her line 'Eclipse' was a parade of eccentric swimsuits to enticing 'poom poom shorts.'  Flirty baby doll dresses, bustier and retro leggings defined the line which oozed sex appeal.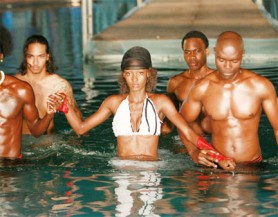 Between Edwards and the Telford sisters a bold new kind of fashion is emerging, but the sisters have the edge on cool designs.
The feel of edgy designs also came from Shedell Burch-Smith and Rhonda Dunbar, two young designers with a unique sense of style, and between last year and now, incredible maturity. Shedell took the audience by storm when she unleashed a collection of hot white blazer jackets designed to hug the female frame; she mixed them up with flowing shirts, plain pants and those ubiquitous leggings.
Loud details
And Ronda did some interesting work with denim, offering up a collection of tame colours but with loud details. Her line featured everything from clean cut pants to sexy cocktail dresses and a parade of tantalizing bikinis.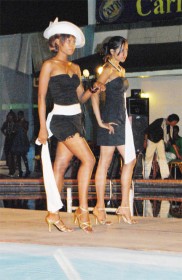 But it was not all about sex appeal; the artistry of designers such as Marcia De Santos, Carol Fraser, Chandini Ramnarine, Ronella Wosely, Zarenah Hamed-Pyle, Andrew Harris and Sonia Noel exhibited the creative draw of fashion weekend.
In Sonia's case, it is always an inspiring line of casual, stunning clothing that floats on the body of any model, male or female with unequalled gorgeousness. This year her collection was splashed with vibrant colours, bright oranges and green and yellow. She fittingly closed the show.
Marcia and Ronella's collections were among the few that drew loud reactions because of how good they were, and it was easy to understand why – they create not design. Marcia works her magic on linen and pushes it to unbelievable heights; it is clothing that compliments any female frame. This year she produced a collection of mostly cocktail dresses with her signature style, and the colours varying from pumpkin to olive and rich lavender.
Ronella also featured dresses but she mixed things up with afro-inspired designs featuring heavy details and incorporating beads and patchwork. She also created pieces for men, simple yet creative linen skirts and flowing pant suits. Ronella had captured the Designer Portfolio title shortly before fashion weekend and the line testified to her strength and unique skills.
Designers such as Carol and Zarenah are good at crafting their pieces while Karen uses natural materials to make her statement about environmental preservation. Chandini has matured into a strong designer with rich taste.
Lori-Ann Jacobs was among those who impressed on the final night as she unveiled a wonderful collection of male pieces and enticing dresses. Jacob's male touch appeared stronger though, as the pieces were more detailed and clean cut.
'Taking a plunge'
Melessa Payne basically owned fashion weekend this year, from the label of 'principal model' to the tag of 'model-turned designer' and  her designing skills as are good as her catwalk know-how. Her collection opened the final show and there she was at the end of it all, curtains coming down and Melessa standing solo on the stage before taking a plunge into the pool to call it a wrap.
Her collection was beautiful, featuring fresh new afro-prints, casual dresses and soft linen men's wear. She stood out because of how together the collection was, incorporating identical male/female pieces, mother/baby designs and stunning separates ranging from mini-skirts to ankle-length sheath-like dresses – everything about the collection screamed glamour.
On its opening night fashion weekend showed off the titillating designs of Olympia Small-Sonaram, a new body-paint presentation from designer, Steve Douglas and the cutting edge designs of young Sharda Elliger. Others featured included Alana Benning, Rishma Persaud and newcomer, Dorian Orbermuller, who impressed with a nature couture edge to his costume designs.  ([email protected])
Around the Web