This Christmas Day we bring you something a little different, but of concern to consumers none the less. We print below an article from the Evergreen Nature Study Club, which is engaged in sensitising young people especially to their natural environment.
At least a dozen times each year, a group of high school students boards a bus to journey from  Georgetown to the green forest, where the creeks are stained black and Acoushi ants march robustly on white, tiwiwid sand. For many of them, this is a new, refreshing experience.

Their destination is an area of theYarrowkabra forest on the Linden-Soesdyke Highway, which is under the stewardship of the Evergreen Nature Study Club.
Most students living in resource-rich countries like Guyana are studying and reading about nature in textbooks, when they have the option of actually experiencing it. Teachers in Guyana are able to have direct contact with plants and animals in their natural habitats throughout the year.
When introducing biology in the fourth year of secondary school, there would seem to be considerable advantages from a pedagogical point of view in exploiting the country's natural assets, and allowing students to have a direct appreciation of the subject rather than viewing it as information to be memorized.
This is the mandate of the Evergreen Nature Study Club (NGO), launched on September 8, 1997, to take students out of their classrooms and into the remote regions of Guyana, where they can be taught to identify and learn in a scientific manner about organisms in the ecological system.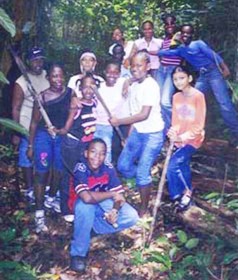 At North Georgetown Secondary School where the organisation was born, Evergreen Nature Study Club carries the motto, 'Ever Researching, Ever Serving' and it has been communicating its main objective 'To know Guyana's natural resources and how to make good use of them in a holistic manner' to its 100-odd club members, mostly secondary school students, scattered across the country in all administrative regions. Region Eight was the last chapter to be established in 2003.
The Evergreen Nature Study Club has its office at Lot BB 2-3 Mandela Avenue, La Penitence with an auxillary facility at 217 Lamaha Street, North Cummingsburg, west of Camp Street.
Although membership is open to almost anybody, the club is geared to attract youths. Many of the students who are members of Evergreen Nature Study Club study agricultural science, integrated science and geography at school.
Having emerged from a period of colonialism, Guyana, a developing country, needs to take careful and accurate stock of its resources. Development programmes are placing increasing emphasis on agriculture, particularly the need for diversification, but it is obvious that in order to accomplish this and improve our natural resources, we need to know exactly what plants, animals and soils we have in Guyana; where they are and what their characteristics are.
With such knowledge we can develop techniques for maximizing our gains from the soil, conduct research, promote eco-tourism, create employment and thus go a long way towards real economic independence.
T  he 'outdoor literacy' effort started with an outreach programme that invites students from schools in the city, mainly those studying the sciences, to participate in the activities of the club.
Among the institutions which have benefited from the programme are North Ruimveldt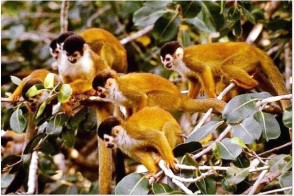 Multilateral, North Georgetown Secondary, East Ruimveldt Secondary, Tutorial High, Richard Ishmael Secondary, St John's College, St Winefride's Secondary,
Brickdam Secondary, Alleyne's High, Tucville Secondary, Freeburg Secondary,
South Ruimveldt Secondary, Lodge Community High, Kingston Community High, New
Guyana School, Mae's Schools, School of the Nations, Marian Academy, Georgetown
Technical Institute, Guyana School of Agriculture and University of Guyana
(Faculty of Arts).
Institutions outside Region 4 which took part were the North West Secondary, Cotton Field Secondary, Anna Regina Multilateral, Zeeburg Secondary, Stewartville Secondary, West Demerara Secondary, Leguan Secondary, Fort Wellington Secondary, Tagore Memorial Secondary, New Amsterdam Technical Institute, Bartica Secondary, Mahdia Primary and Secondary, Fair View Primary, Surama Primary, St Ignatius Secondary, New Silver City Secondary and McKenzie High School.
Students in these outreach programmes help to identify a spot in their school compound, clean it up and do a bit of landscape gardening in it. The students at North Georgetown Secondary, St John's College and St Winefride's Secondary even painted murals of forest trees on the outer walls of their school building.
According to the club, the activities enable students or participants to develop an analytical mind and wherever they choose to live in the future, they would have already learnt in Guyana to be very conscious of the environment and keep it tidy. It's at the Study Base that they learn to condense months' of plant life theory into hours of practical, hands-on, fun interaction with nature. Parents are also invited.
This space is home to many animals, the most common ones being sakiwinki and howler monkeys, 'bush' foxes, labba, acaris, swamp and 'labaria' turtles, a wide variety of frogs, parrot snakes, sloths, armadillos, hawks, vultures, woodpeckers, butterflies, bees, giant spiders and the acara crabs, commonly identified by their orange-coloured legs and brown shells.
Students who are successful are awarded a certificate of participation in scientific research.
Most of what occurs at the research site is observational studies of flora and fauna and the collecting of samples from each of the five plant groups (food, medicinal, ornamental, utility and forest species). Some of these include cocoa-eddoe, congo pump, purple zeb grass, sawari nut, moco-moco, ferns, bamboo, dakama, duka and wallaba.
The research site has at least 80 species of plants and 70 species of animals in the life kingdoms. Samples collected are either taken back to schools' laboratories or are kept by students as data for future School Based Assessments. The signatories on this course are Iwokrama International Centre for Rain Forest Conservation and Development, the National Agriculture Research Institute (NARI) and UNESCO, to which the club is also affiliated.
Members of Evergreen Nature Study Club have toured the Iwokrama rain forest, Ceiba Biological Centre, Omai Gold Mines Limited, the Mahaica/ Mahaicony/Abary Agricultural Development Project site, Surapana Farm, Emerald Tower eco-resort, and Mabaruma Township, among other sites in the country.
Photographs and study reports taken from every research site are posted on Evergreen Nature Study club website at www.evergreenstudy.org
So, what can one nature club and a bunch of young, avid and possibly future environmental researchers do for Guyana?
As one director puts it, "It is our belief that there must be a change of  attitude with regard to appreciation of our tropical environment, biodiversity and agriculture, along with consumer tastes – what we eat. This is the whole idea of studying together for the natural good of ourselves, the human resource."
Many of the Evergreen Publications produced by the club may be found at Austin's Book Services in Church Street.
Around the Web