A stunning Tamika Henry was crowned Miss Guyana Universe on Saturday night as predicted, after delivering an electrifying performance that revealed her confidence to win and her ability to captivate the audience.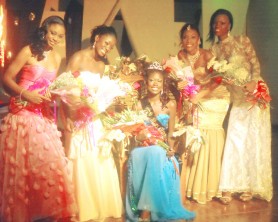 From the beginning of the three-hour competition, the 22-year-old Queen's College alumnus displayed grace and ensured that there was always a smile and eye contact with those watching.
Henry was crowned and sashed by Miss Guyana Universe 2007, local catwalk model and designer Meleesa Payne, close to midnight.  Miss Guyana Universe 2009 Jenel Cox, who is pregnant, would have forfeited the crown and title. No pageant was held in 2008.
Henry outshone seven other beauties competing for the crown at the annual pageant held at the Princess Hotel, Providence – its first staging outside the National Cultural Centre.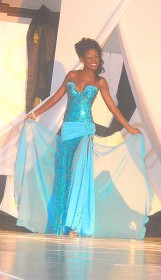 Trainee nurse, Crystal Benn copped the first runner-up position and also won the best smile prize; the second runner-up was certified phlebotomist Melissa Carter; Chrystelle Mervin, a Princess Casino dealer was awarded the third runner-up spot while contestant number one and a crowd favourite, Rushauna Harris was the fourth runner-up.
Henry won the best gown prize, for the dazzling shimmery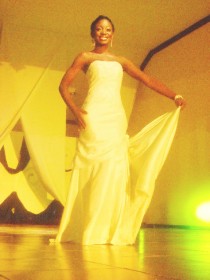 blue dress she wore and which she displayed marvellously.
Among her other gifts and prizes is the opportunity to represent Guyana at the Miss Universe pageant slated for Las Vegas, USA on August 23. Unlike the other contestants in this local leg of the competition, Henry has had some exposure to international pageantry.
Last year, she was a finalist in the Miss University of Miami pageant.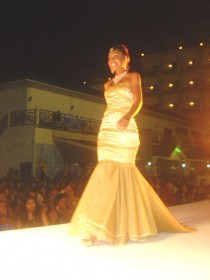 Answers in the final question segment were unimpressive except for Henry and Benn who managed to give good responses. Throughout this segment, Henry was composed while her fellow contestants stalled, took minutes before answering, made grammatical errors and even stumbled in their responses.
Each of the final five were allowed to choose a judge. Henry was asked if as a Guyanese woman, she thinks that men show women the respect they deserve. She responded that some do as they are providers and protectors while there are other men who do not, for example those who objectify women in the media.
Benn, minutes earlier, in response to a question about some of the things she would do in a year if crowned queen started off well when she said she would thank the Heavenly Father and take up her platform child abuse. She then went on to talk about helping the "ill treatment children".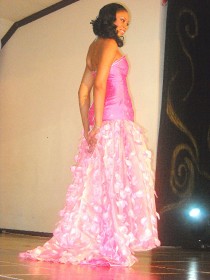 Mervin sent the crowd into a fit of laughter when she said that as a child she wanted to be a role model but could not get beyond that thought. Her question was what were some of her dreams as a child and whether she has or is close to achieving them.
Another disastrous response came from Harris who said that as an ambassador she would tell non nationals to come out to Guyana since we are hospitable people and have lots of riches to offer.
Minutes after being crowned, Henry, who holds a BSc in Forensics and who returned home to take a break from her studies said, "I am so excited. I am happy. I am so elated. It is like a dream come true."
She told Stabroek News that she was very confident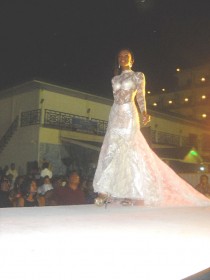 she would win but still had a little doubt. Henry said she knew she still had to work for the crowd. For her the only competition was first runner-up, Benn.
Most of the contestants looked stunning in their swimsuits and evening gowns. However, whoever designed Cindy Craig's gown did her an injustice. The hideous shade of orange, reminiscent of our loam roads, did not match her skin tone.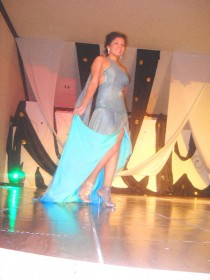 Nevertheless, Craig did all she could to proudly display her gown. Sadly, it was not appreciated by many in the audience.
NCN's news anchor Natasha Smith failed to make the final five. Not only is she short – 5 feet 3 inches – but her evening gown just did not suit her figure.  Another contestant, Xander Pierre who is very pretty and has a good figure but admits being a tomboy is only five feet two inches tall.
Things got underway more than an hour after the scheduled 7 pm start with the opening dance to a Justin Bieber tune.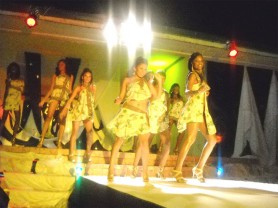 The contestants, dressed their swimsuits, with print cover-ups were then introduced.
Later the audience was treated to some energetic entertainment from the Karma band. A newcomer to the band, Gregory, along Ravi had the ladies on their feet.
Everyone, even those who were disappointed with the results for one reason or the other, could certainly say that they enjoyed themselves thanks to the Karma band.
There was also some entertainment from overseas-based Guyanese Aubrey Mann and designers' clothing on show.
The black, white and gold stage decoration was good, but a little bit more work could have been put into it.
In future pageants, a better system must be put in place to avoid sheets of paper falling from the hands of the hosts.
Despite the late start and a few sound glitches, the organisers must be applauded for a well-planned programme.
Around the Web