By Shabna Ullah and Adrian Smith
A horrific head-on collision between a minibus and a truck along the Suzannah, No. 19 Village Public Road, Corentyne left 12 persons dead, including a two-month-old, and five others hospitalised yesterday afternoon.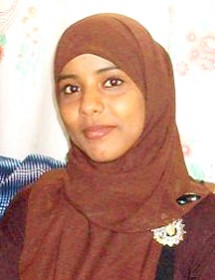 Up to press time last night, the casualties were identified as the bus driver Odit Narine Babulall, 33, of No.48 Village; two month-old Josiah Khan; the child's mother Talita Mendonza, 21, of Kildonan; Cindy Jaggernauth, 37 of Nigg, Corentyne; Marques Ault, 13, of Rose Hall; Salmaa Razac, 23, of Main Street, Cumberland; Patricia Asgarally, 28, of Albion; Orlando De Mattos, 35, of Manchester; Salina Juman, 46, of Burn Bush Dam, Canje; and Janet Baker, 42, of No. 19 Village, Corentyne. Two other persons were still to be identified.
The survivors are Cindy's husband, Sham 'Chubby' Jaggernauth, 40, also of Nigg, Corentyne; Tamika Fraser, 24, of Kildonan; Nicola Ross, 18, of Tain and wife of the minibus driver, Ashwantie Singh, 33, also of No. 48 Village, who was the conductress of the bus. Feona Singh, 14, of No. 11 Village, Corentyne and a student of the Corentyne Comprehen-sive Secondary has been transferred to the Georgetown Public Hospital.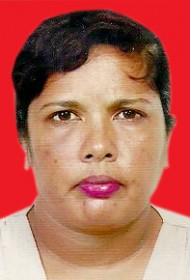 The driver of the truck and two porters were arrested and are assisting with investigations, police said last evening.
Reports are that around 3:40pm, the bus, BHH 1842, was heading towards New Amsterdam while the truck, GLL 8863, was proceeding in the opposite direction. The truck reportedly veered suddenly into the path of the bus, resulting in the collision.
An eyewitness claimed that one of the vehicles reportedly suffered a blow out but police were unable to confirm this. In a statement, police said that it was raining when the truck driver overtook another vehicle and ended up in the lane of the minibus. Reports are that a survivor recalled the bus swerving and then feeling an impact.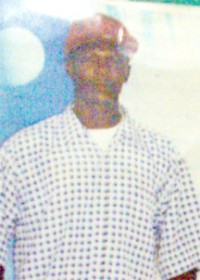 A huge crowd gathered at the New Amsterdam Hospital after hearing the news of the accident; some to identify bodies. An eyewitness said after the collision, there were a number of bodies on the ground, including some in the trench. There were body parts in the bus as well.
Attempts were made to get vehicles to take the persons to the hospital but many of the victims were limp. The witness said that all of the persons in the minibus had some sort of injury to the head.
When Stabroek News arrived at the scene, there were two bodies, those of a man and a woman, still lying on the road, waiting to be taken to the New Amsterdam mortuary. The driver's side of the minibus was torn off completely from the front to the back. There was blood everywhere  in the bus. Some persons were difficult to identify as their faces were badly disfigured.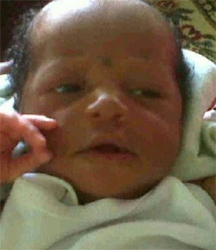 Earlier, Abu Bakr Razac had said that he got the news that his daughter was in the minibus and he went with his wife, Ameena and other relatives to check on her. He later identified her badly damaged body in the hospital's mortuary.
Ameena said her daughter was returning home from work at Nand Persaud Communication at Tain. In tears, she lamented that Salmaa, who got married last year, was expected to join her husband overseas in two months time. She said Salma was supposed to go to Georgetown yesterday to have her "medical" done but "did not want to take another day off." She said Monday was supposed to be her day off and she was planning to go then.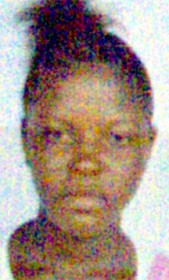 Chinma Subryan said she last saw her daughter, Patricia Asgarally, when she left home early yesterday morning for the Port Mourant Ophthalmology Centre (PMOC) where she worked as a ward maid. Asgarally passed her home at Albion in the bus and was headed to a hair salon in New Amsterdam. Subryan was wailing loudly after her daughter's death was confirmed.
Over at Burn Bush Dam, Juman's daughter, Shaneeza, 18, told this newspaper that her mother left home at 6:30am yesterday to go work. She too was a ward maid at the PMOC. She said after 4 pm one of her mother's colleagues contacted her by telephone and told her to call her mother and find out if she was okay.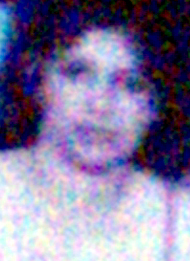 Shaneeza tried several times but kept getting her voicemail. She did not know about the accident until later when she received another call from her mother's boss who said that her mother and Asgarally joined the "green" bus.
Shaneeza's husband went over to the hospital and identified her remains.
Ault's teacher, who was in tears after she learnt of his death, told this newspaper that he was on his way to her house for lessons. The woman, an English teacher at the Tutorial Academy, said the boy lost his mother two years ago.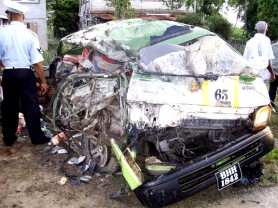 According to De Mattos' widow, Marsena DeMattos, he had left home to "do some business in New Amster-dam." She related that she got a call from a friend saying that her husband was involved in an accident. She said that she was a little hesitant at first but decided to go and check it out. She said that when she saw the wreckage she knew that there was a slim chance of anyone surviving.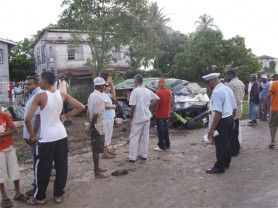 The bodies were removed to private funeral homes in New Amsterdam. While the Chief Executive Officer of the Berbice Regional Health Authority, Dr. Vishwa Mahadeo, would not confirm whether the hospital's mortuary was working, he explained that it was not built to accommodate so many bodies. He said too that the hospital has an arrangement with private mortuaries to assist in such cases. According to Dr. Mahadeo, x-rays did not show any major injuries on the injured, who were all in stable conditions.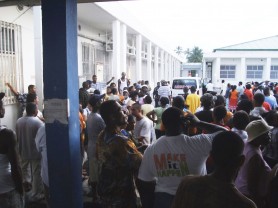 Minister of Health Dr. Leslie Ramsammy left Georgetown for the New Amsterdam Hospital immediately after hearing the news from his staff members, whose vehicle was caught in the traffic at the scene.
He said many of the bodies were mangled and there were also cases of decapitation. It would have been a traumatic experience for a lot of persons to go into the mortuary together to identify the remains, he told the media.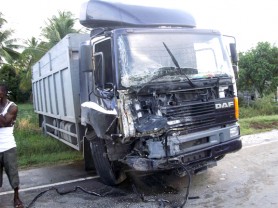 The minister pointed out that extra nurses and doctors were called out to handle the situation, which included treating relatives who were in a state of shock after hearing the news of their loved ones.
He said President Bharrat Jagdeo was also informed of the accident and sent his deepest sympathy to the victims' relatives. The President had also sent Minister of Public Works, Robeson Benn to inspect the site to ensure that such accidents can be prevented in the future.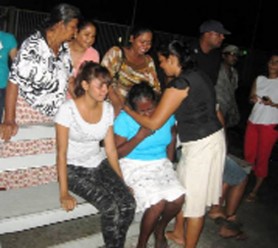 Around the Web