Former Director of Public Prosecutions,  Denis Hanomansingh, has been sworn in as a temporary judge in Belize, according to 7 NewsBelize.com.
Justice Hanomansingh's contract is for six months and it took effect from December 1st. Justice Hanomansingh will be doing criminal matters in the Northern District session of the Supreme Court. He was sworn in by acting Chief Justice Sam Lungole Awich.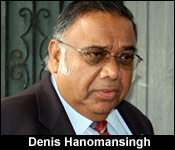 Before he went to work in Belize he was a judge in Barbados and also served as Director of Public Prosecutions in Guyana. He left Guyana after he was injured in an attack on a bar at the height of the crime spree that followed the 2002 jail-break.