PPP censures Nagamootoo over GAWU comments
The PPP has censured executive member and presidential hopeful Moses Nagamootoo for his recent public statements on GuySuCo's threat to derecognise the sugar workers union GAWU with party General Secretary Donald Ramotar labeling his statement as grandstanding and in bad taste.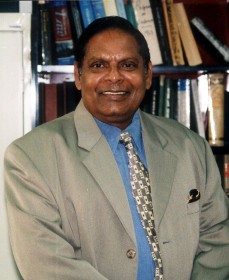 GuySuCo's threat was conveyed to GAWU last Thursday by way of letter and the corporation subsequently sought to clarify on Saturday that the threat pertained only to illegal strikes after the uproar its position caused following media reports.
Nagamootoo in a statement on Sunday called GuySuCo's threat "intemperate and reckless" and an "extreme provocation."
"I am shocked that the Government could condone this attack on GAWU and the sugar workers; and that leaders of my party, the People's Progressive Party (PPP), would expect to be in silent conspiracy with this outrage against the vanguard of the working class movement in Guyana. I can no longer remain silent. This is a grave national matter, and one of conscience," the parliamentarian wrote.
Further he stated, "I dissociate myself from what seems to be a state-party alliance in sledge-hammering GAWU, judging from the leading role of Dr. N.K. Gopaul, Permanent Secretary in the Office of the President and former acting Head of the Presidential Secretariat, as Chairman of GuySuCo, and Mr. Donald Ramotar, General Secretary of the People's Progressive Party (PPP), who is a prominent member of the Board."
At a news briefing today Ramotar said Nagamootoo's remarks were discussed in the presidential aspirant's presence at a meeting on Tuesday and he was issued a verbal warning since he had been present at a meeting where the issue was discussed the day before he made his public statement.
"He was present and he heard the views of the Central Committee in sympathy with the sugar workers and he heard the president's statement right here in this room expressing very explicitly that that will not happen, the de-recognition of the union, not under his watch according to him. But I extend that to not under a PPP or a PPP/Civic government.
And yet he went out there kind of grandstanding which people thought was in very very bad taste. I believe his statement was reckless and intemperate in his own words," Ramotar said.
Around the Web