(Trinidad Express) "All she wanted for Christmas was a dolly. She said, 'Granny, I would like to have a dolly for Christmas please. Love you granny, bye granny.' I got the doll for her. Just what she asked for and that was it."
These were the words of Ingrid Watterton, as tears rolled down her face, remembering her granddaughter, two-year-old Renisha Lewis, who was one of five persons killed during a road traffic accident in Arouca on Friday.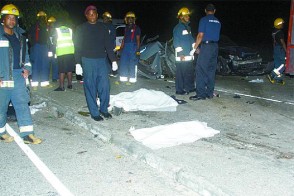 Fire officers stand around the bodies of two of the accident victims, who were killed on Friday evening on the Churchill-Roosevelt Highway in Arouca. (Trinidad Guardian photo)
Watterton, a mother of four, also lost her daughter, Melissa Watterton-Lewis, 24, and Melissa's husband Renisford Lewis. Renison Roberts, 38, and his wife Pamela were also killed in the accident.
Speaking with the media yesterday outside her daughter's apartment at Burke Terrace in El Socorro, Watterton described Christmas Day yesterday as her worst in years. She said she hoped that with God's grace and mercy, the wounds which have been left by the untimely death of her relatives, would be healed.
According to police reports, around 6.46.p.m, Rennison was driving his motorcar west along the highway, near the Youth Training Centre, when it is believed he got a bad drive from another motorist.
Renison lost control of the car which struck the median, flipped into the air and collided with a green Peugeot which was proceeding in the opposite direction. The vehicle broke in half upon impact, police said. The driver of the Peugeot sustained minor injuries and had to be treated at hospital.
Renisha, Renisford, Melissa and Renison all died at the scene while Pamela died while being treated at hospital. Renisford was a Guyanese while his wife and child were Trinidadians. Police said they were told that Pamela and her husband were Guyanese nationals.
Editor's note: The report below is from T&T Newsday and some names are different
5 die in CR Highway crash
(Trinidad Newsday) As thousands around the country celebrated Christmas yesterday, a Laventille woman was coming to terms with the news that her daughter, son-in-law and granddaughter had been killed in a vehicular accident on Friday night.
With tears streaming down her face seated in her daughter's apartment at Burke Terrace, El Socorro Extension yesterday, Ingrid Watterton said, "I was just hoping it was a dream."
A three-car smash up along the east-bound lane of the Churchill Roosevelt Highway on Christmas Eve claimed the lives of Guyanese nationals Redison Roberts, 38; his wife Indrani Roberts, 28; Wrensford Lewis, 34; his wife Trinidadian Melissa Watterton-Lewis, 24; and their daughter two-year-old Renesha.
Causing a major pile-up as traffic had to be diverted along the Piarco Old Road, the tragedy occurred at about 7 pm as the five were returning from completing last-minute Christmas shopping in Arima.
While officers are still uncertain how the accident occurred, Watterton said they believe Roberts was "given a bad drive and lost control of the car as he pulled away."
Police said a vehicle driven by Nyree De Couteau, 41, a Customer Service Representative at TSTT and her daughter La Toya, 25, was heading east to their home at Red Hill in D'Abadie, while a second car driven by Barry Guy, 46, of Morvant and a driver with TSTT, was struck by Roberts' B11 Sunny car which crossed the median and collided with them.
While the five occupants of Roberts vehicle were killed instantly, La Toya had to be hospitalised after sustaining minor injuries.
A vendor in Port-of-Spain, Watterton recounted yesterday how she first found out that her family was involved in the accident.
While at work along Independence Square on Friday night, she said a man told her of the accident and claimed Melissa, an employee of Carib Brewery had been a passenger in one of the vehicles.
After inquiring at the Besson Street Police Station, Watterton said she went to the Arouca Police Station where the information was confirmed and was later taken to Allen's Funeral Home in Arima where she positively identified the bodies of the five victims.
Gesturing to the disarray in the apartment which remained half-painted, Watterton and her husband Malcolm said the couple had "already finished their shopping but knowing Melissa, she probably had to get a few last minute items."
Malcolm said Melissa had asked him to help her buy a car and was looking forward to getting one.
The grieving mother last spoke with Melissa at about 11 am on Thursday as she said her daughter's favourite line while patting her shoulder was, "Don't worry mom…why worry."
Watterton pointed to groceries still in plastic bags on the sofa as she shook her head and said, "I didn't prepare for this. This was not part of the plan but I have to accept it."
Unsure of how she will cope with the loss, Watterton said she has many questions but that her faith remained strong.
Around the Web