After starting close to two hours late the Guyana Amateur Boxing Association (GABA) Champion of Champions tournament got underway with Eon 'No Nonsense' Bancroft stopping Rock Watson in the first round at the Cliff Anderson Sports Hall last night.
The middleweight Bancroft, of the Guyana Defence Force (GDF), came out firing and Watson had no response until the bout was stopped one minute, 21 seconds in the first frame. The next six fights were all one-sided affairs.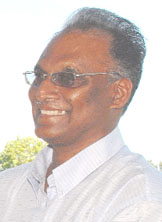 In the 55-59 pounds category Kurt Allicock, of Harpy Eagles Gym, was too much for his gym mate Akeem Mullings, who lost 0-3. Harpy Eagles' Kevin Allicock then over-powered Christopher Tinnerman of Essequibo in the 60-64lb weight class.
Odeen Moore of Essequibo managed to win a round on the judges' scorecard but in the end Christopher Mansfield kept the Harpy Eagles' name aloof by scoring a 2-1 victory over his opponent. Another Harpy Eagles fighter in Elijah Inshanally defeated Andel Moore 3-0 to book a place in the 70-74 weight class final tonight.
Daneshwar Narine of the Republican Gym was picked apart by New Bauxite Bomber pugilist Troy Billey. Billey landed the cleaner and more powerful shots, something Narine had no answer to. Eventually, after receiving the third standing eight-count Referee Ramona Agard stopped the fight 1:10 seconds of the first round.
Keeve Allicock of the Harpy Eagles scored a 3-0 victory over overseas based Guyanese fighter Travis Hall.
Meanwhile, earlier in the night load shedding caused by a defective fuse caused the tournament to start almost two hours after the stipulated 18:00 hours. The lights over the seating accommodation were dim while the lights over the ring, which should have illuminated the most of the arena, were off.
The sprinkling of spectators sat quietly while the boxers did their best to keep warm as GABA officials milled around to get an electrician to rectify the problem. When Stabroek Sport spoke to president of the GABA Steve Ninvalle
he said that barring the issue with the light the culture of events starting late because officials and athletes may not be present is ridiculous.
He said that clubs, athletes and officials will have to be sensitised on the importance of time since they are too cavalier about being punctual.
When Director of Sport Neil Kumar opened the championships he said that the association can boast of having a good year and he is looking forward to seeing some of the boxers from the championships appearing at the 2012 Olympics in London in 2012.
Around the Web